The Whole Enchilada is one of the most well-known mountain bike trails in the country, located in one of the most iconic places to ride, Moab, Utah.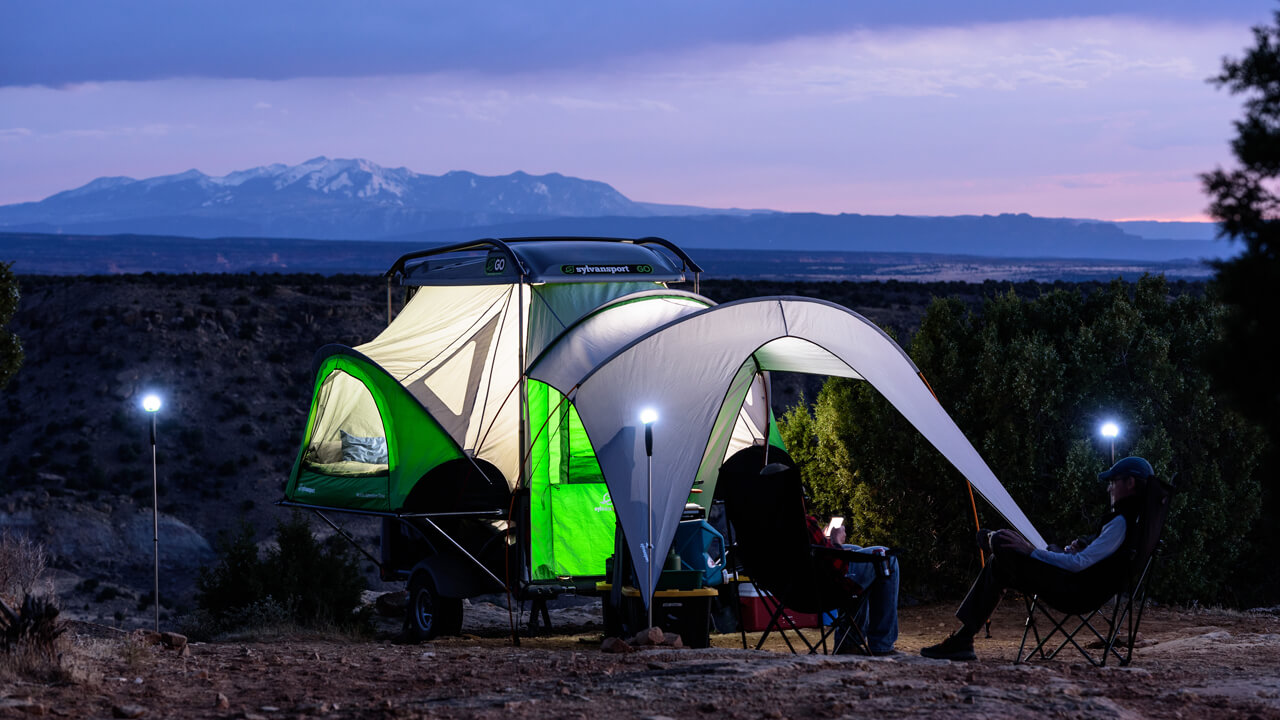 Starting at 10,600 feet, The Whole Enchilada climbs to 11,200' and then drops down to 4,000 feet to meet the Colorado River. With almost 8,000 feet of descent, this trail may seem easy enough, just point your bike downhill and go. But, at 34 miles long and over 2,000 feet of climbing along rugged, remote, and technical terrain, The Whole Enchilada should not be taken lightly.
November is a little late in the season to take on The Whole Enchilada.
With the first quarter of the trail topping 8,000 feet elevation, snow is very much a possibility. But for John Powell, it was worth the risk to head out and see what conditions were like when he got there. John is a professional photographer based in South Carolina and an avid mountain biker. If you've ever traveled with a photographer, you know how far they will go to get The Shot; taking a long, winding detour just to see if there's a good sunrise view, waiting a ridiculous amount of time to catch the perfect light, or selecting a campsite based on photo-worthiness rather than its convenience to trails or water. It can be an exercise in patience and test even the strongest of friendships. So, when John texted his buddy, "You know what we should do? We should go ride The Whole Enchilada." Kirk was completely aware of what he was getting into, when he enthusiastically replied, "Let's do it!"
After coordinating work schedules and life logistics, John and Kirk settled on late October to start heading West. Time to start packing. Two guys, two bikes, camping gear, bike gear, camera gear, a Toyota 4Runner, and a GO camping trailer… plenty of room.
Should the expensive bikes ride inside the 4Runner? Safer that way. Less chance they'll get stolen or damaged. OK. Plenty of room to load up the gear deck. Do we really need to bring a grill? What if we can't light a fire? OK, I guess. Bike repair stand? Maybe we should travel with the GO gear deck expanded. I'm bringing a hammock stand. Should the cargo box ride on the truck or the GO equipment rack? We'll make it work.
Like a well-seasoned backpacker, John knows exactly what to bring, where it goes, and how much he needs when setting out for a big road trip. After several trips out west, and countless excursions closer to home, John's 4Runner and GO are packed just right…for traveling solo. But what about accommodating two people who are gear junkies in a lightweight pop up camper being towed by a mid-sized vehicle? After some back and forth (and maybe a little tongue biting) everything was packed, and it was time to go!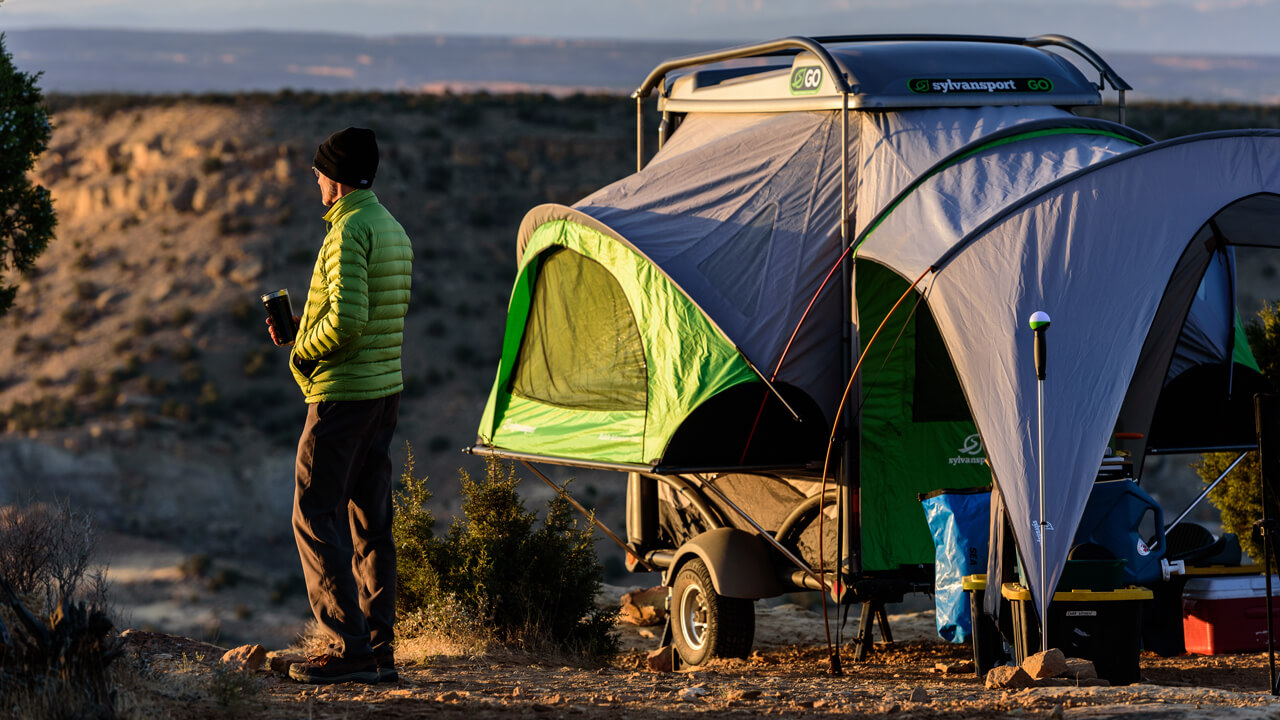 En route to Utah, an unsuspecting town has started to become a true mountain bike destination. Bentonville, Arkansas. That name may sound familiar. Bentonville is home to WalMart and the Walton family. Through the Walton Family Foundation, the Waltons have invested heavily into the local cycling community to the tune of $74 million over the last 10 years to build 163 miles of paved and unpaved bike trails. In an area that already boasts over 500 miles of riding trails, the Waltons have created almost 30 miles of trails and man-made jumps, bridges, berms, and obstacles. It's like Disneyland for mountain bikes. After playing for a couple days in the land of 'everyday low prices', the journey to Moab continued.
The upper elevations of Burro Pass had already seen its first snowfalls, making it unrideable. They settled on doing half The Enchilada, which when you're hungry, half an enchilada is better than none at all.
Moab is famous for its seemingly endless amount of slickrock trails and The Whole Enchilada is like the 'Best of Utah Mountain Biking' bundled into one long, strenuous day of fun. John and Kirk had gambled on their timing and lost that bet. Several more friends met up with them for the remainder of the Moab adventure and they got five days of phenomenal riding. Searching for their final campsite in Moab, John looks over to Kirk and says, "I found this spot on Google Earth that looks beautiful. We should check it out." Which in photographer-ese means: "I want to go waaaayyyyy off-course because I identified some features on satellite imagery which make me think it might be a good location to shoot photos." As they turned off the main highway, the road turned to dirt, which then turned into dirt and rocks with a cliff on one side, and then narrowed to the point where if a vehicle was coming from the other direction, one of them would have to put it into reverse until they found a place where they could squeeze past each other. Google Earth did not show that part. They eventually reached a point where the road widened enough to turn around. The road continued on, but it was getting closer to sunset and Kirk did not seem to be enjoying himself or the current road conditions. By the time they got back to the highway, it was dark and they opted to find a hotel for the night.
Not the most idyllic setting for night photography or sunrise shots, but a shower wouldn't be a bad idea either.
Journeying on, the two crossed over into Colorado and set camp near Fruita for the next three nights. When picking a spot to camp, it's always nice to have good scenery looking out of the window. When you travel with a photographer though, the view also has to look good standing 30 feet back. John had found a site overlooking a beautiful canyon, right near the edge of a cliff several hundred feet high! John claims the GO camping trailer wasn't as close to the edge as it appears to be in the photo. Kirk had his doubts.
The night this photo was taken, the winds picked up to about 25 mph and just for peace of mind, John did get out to check if the GO camper had shifted or moved at all. He had put a little extra weight on the stabilizer jacks and chocked the tires and wheel jack. Everything was where it was supposed to be and John slept like a rock for the rest of the night.
Before making the final push homeward, the friends attempted the Ribbon Trail, a three mile ride downhill that descends from an elevation of 6,660 feet. Because of the snow that had already been falling in Colorado, and the subsequent snow melt, John and Kirk got bogged down in wet, bentonite clay which clings to everything that touches it. This is the stuff that nightmares are made of.
Their tires were quickly rendered motionless. Filled with clay and 20lbs heavier, the final miles of the ride were done on two feet with bikes on their backs.
The next morning, they packed up, pointed East, and drove into the rising sun. A couple of driving days in the truck to recap the trip, remember the adventures, and shift the mind back to regular life. As hard as it is to come back from a big trip, there is a certain excitement in thinking back on what you just did. What started out as a goal to ride The Whole Enchilada became about spending time talking and hanging out with an old friend. Sharing funny moments that are probably only really funny if you were there. Having experiences that aren't really stories, but just things that make you closer. After 2 weeks and 4,500 miles, you realize that The Whole Enchilada wasn't really what the trip was about, but it's what got you on the road.
Never quite as planned, but always great stories for the next campfire!