Pick up your new GO at SylvanSport & save $500
Pick up your new GO at SylvanSport & save $500!
Located in the "Land of Waterfalls"
there is no better place to start your GO adventures.
Use coupon code: PICKUPMYGO at check out
New GO orders must be placed by September 16, 2022 and picked up at our factory in Brevard, NC by December 16, 2022.
Whether you live in our hometown of Brevard, NC or are coming from Seattle, WA, picking up your new GO camping trailer at our factory is an experience well worth the trip. So, what can you expect when you arrive?
Meet one (or more) of our SylvanSport team who will guide you through the pick-up process.
Get a complete hands-on demo on how to set-up and pack up.
Tour the factory and see where your GO was made.
Go through all of your new accessories and gear to make sure you have everything.
Assistance with hooking up the GO to your vehicle. Remember you will need to arrive with the hitch already mounted on your vehicle, a 2″ ball measuring 17″ from the ground to the center of the ball, and a 4-pin electrical connector.
And for a limited time, you'll save $500 when you choose "Factory Pickup" in the order process & enter pickupmygo in the coupon section. That's in addition to what you save by not having to pay shipping fees!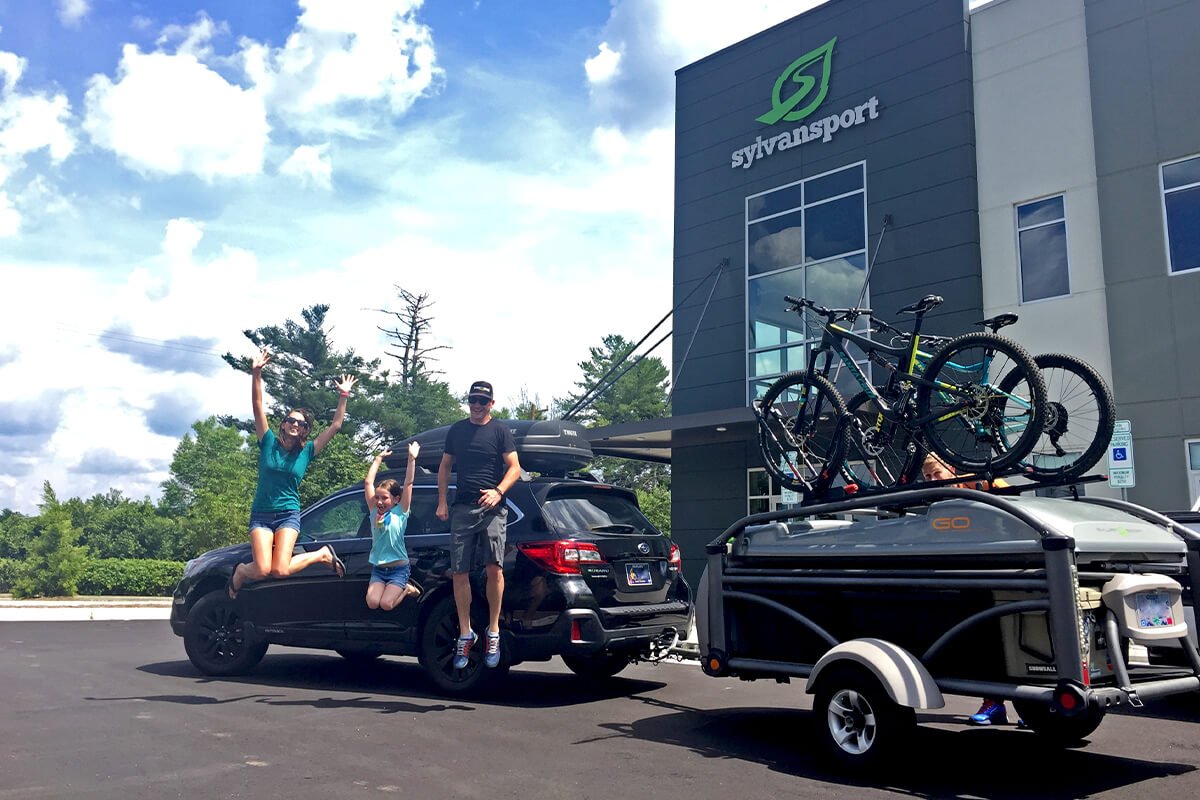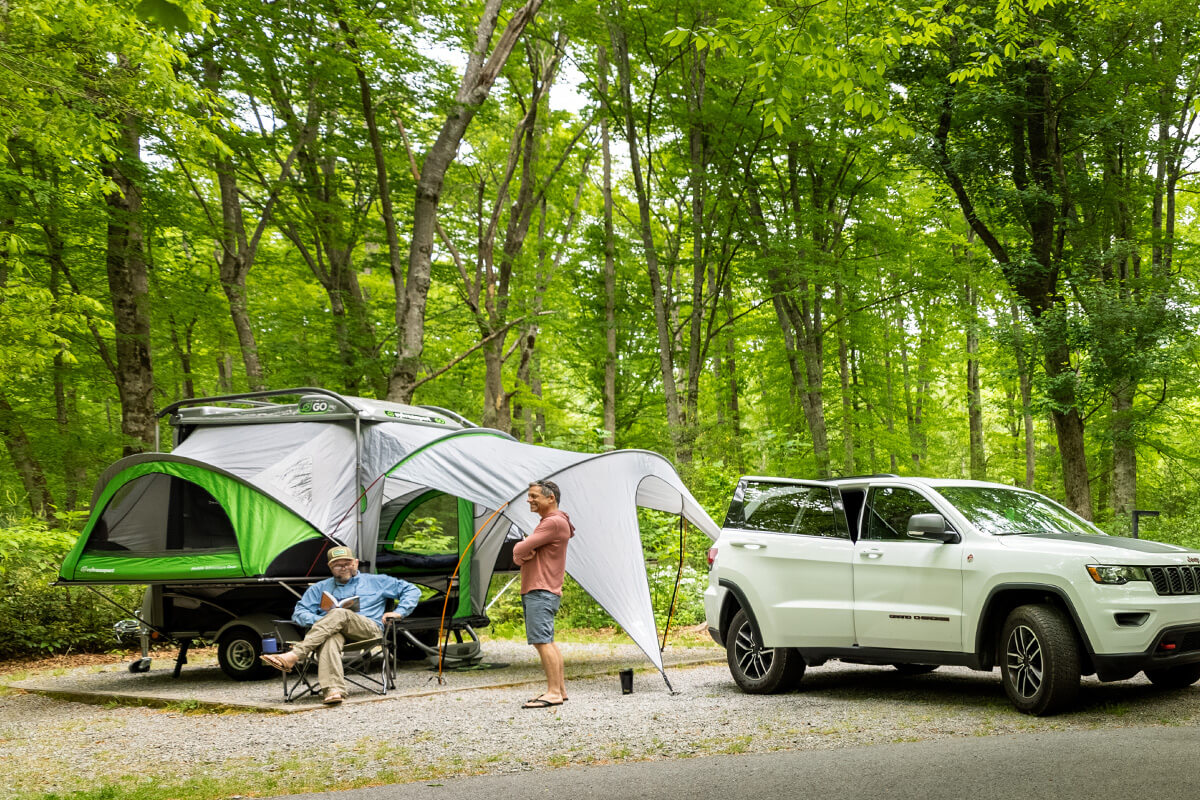 One of the best parts of picking up your new GO at our factory is you can start GOing right away! Spend your first nights close to SylvanSport, so if any questions pop up, we're just down the road. 
Our top campground picks:
Davidson River Campground

– Located just 2 miles from SylvanSport, Davidson River Campground is a full-featured campground with easy access to all of the beautiful rivers and trails that Pisgah National Forest has to offer.

Ash-Grove Mountain Cabins and Camping

– About 10 miles down the road from us, Ash-Grove is smaller, quieter, and more secluded, but still offers the amenities that you will likely need. Closer to DuPont State Recreation Forest, this campground is a convenient spot to access many of the waterfalls for which our area is known.

Lazy J Campground

– A bit further out, but no less beautiful, Lazy J is situated right on the North Fork of the French Broad River. Just minutes from Headwaters Outfitters, this is the perfect spot if you want to rent a canoe for a paddle or spend a day fly fishing with one of their guides.
And, while you're here...
SylvanSport is located in the beautiful mountain town of Brevard, NC. With state and national forests right in our backyard and a quaint downtown with great restaurant and brewery choices (plus a plethora of live music), it's easy to see why we chose to call Brevard "home".
There are seemingly endless options to play outside here. Within 20 minutes, you can be in Pisgah National Forest, DuPont State Recreation Forest, or Gorges State Park. Whether you are looking to hike, bike, paddle, climb, or just relax, there are options galore. If we want any suggestions, we are happy to let you know some of our favorite spots, or help you pick a guide service if you're looking to try something new.
To get started, our Chamber of Commerce offers the best overview of where to eat, drink, shop, and play. Explore Brevard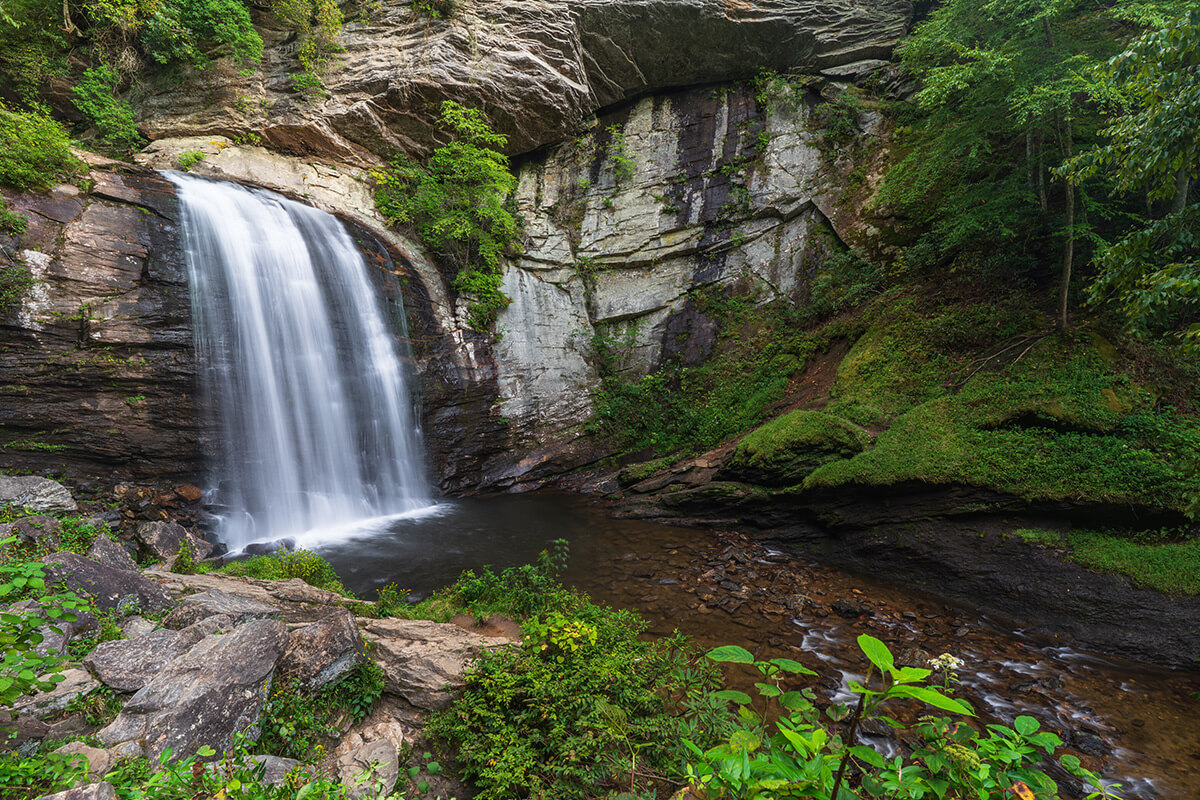 Order by Sept 16 to save $500
with factory pickup!
Use coupon code: PICKUPMYGO at checkout