Franconia Notch State Park
Photography/Videography by Klementovich Photo
If the family were a boat, it would be a canoe that makes no progress unless everyone paddles.
In a small town nestled in the White Mountains of New Hampshire, GO owners, Karly and Ben Afasano, have become something of local legends at the local gear shop.
Matt, who is a guide for the Lincoln branch of the shop, Sports Thoma, says he tells their story to his passengers when he shuttles bikers up local Franconia Notch for the nine mile bike ride back down.
Karly and Ben took that same shuttle ride six years ago. When they tell the story, the joy and humor sparks in their voices, and as they get excited, they speed up. Like many married couples, they interrupt to correct the other's version, or to interject a specific detail, mostly because they just love the telling. It so obviously means something to them: the moment they began to create their own outdoor family.
Their story goes like this:
About six years earlier, the Afasanos—Karly works as a nurse, Ben in health insurance—moved from Florida to Massachusetts to be closer to Karly's mother. When a friend heard they were moving to New England in early October—prime leaf season—she told them about the shop in the White Mountains and the bike trip they just had to make.
Lincoln is about two hours away from Haverhill, Massachusetts, a town near Boston, that Karly and Ben chose to be closer to the mountains. Even though they were, as Karly laughing says, "flatlander Floridians," the mountains were already calling.
Amidst the excitement of moving to a new place, getting to be near beautiful mountains, and being closer to Karly's mother, there was also the fact that they had left all their friends and family behind in Florida. "We were kind of depressed and mopey", laments Karly.
So, only half moved in, they decided to take a break and go experience the famed leaf season of New Hampshire. They hopped in their car and headed north to what would become a life changing weekend in the White Mountains.
Based on the recommendation of their friend from Florida, the Afasanos drove to Lincoln, NH and walked into Sports Thoma to see about renting some bikes and immersing themselves in the red and gold colors that covered the mountains. A shuttle to the top of Franconia Notch lets riders meander their way along the bike path back to the shop. On the ride up to "The Notch", they were joined by Jon and Ben, two brothers who turned out to be regulars at the shop and longtime area campers. Along the way, they pointed out all the big landmarks and various sights to Karly and Ben. It was like their own private tour of the area. Needless to say, the introduction to their new home area was off to a good start.
After Matt dropped the four of them off, Ben turned to John and asked, "do you mind if we ride down with you?"
"Yeah, you can tag along".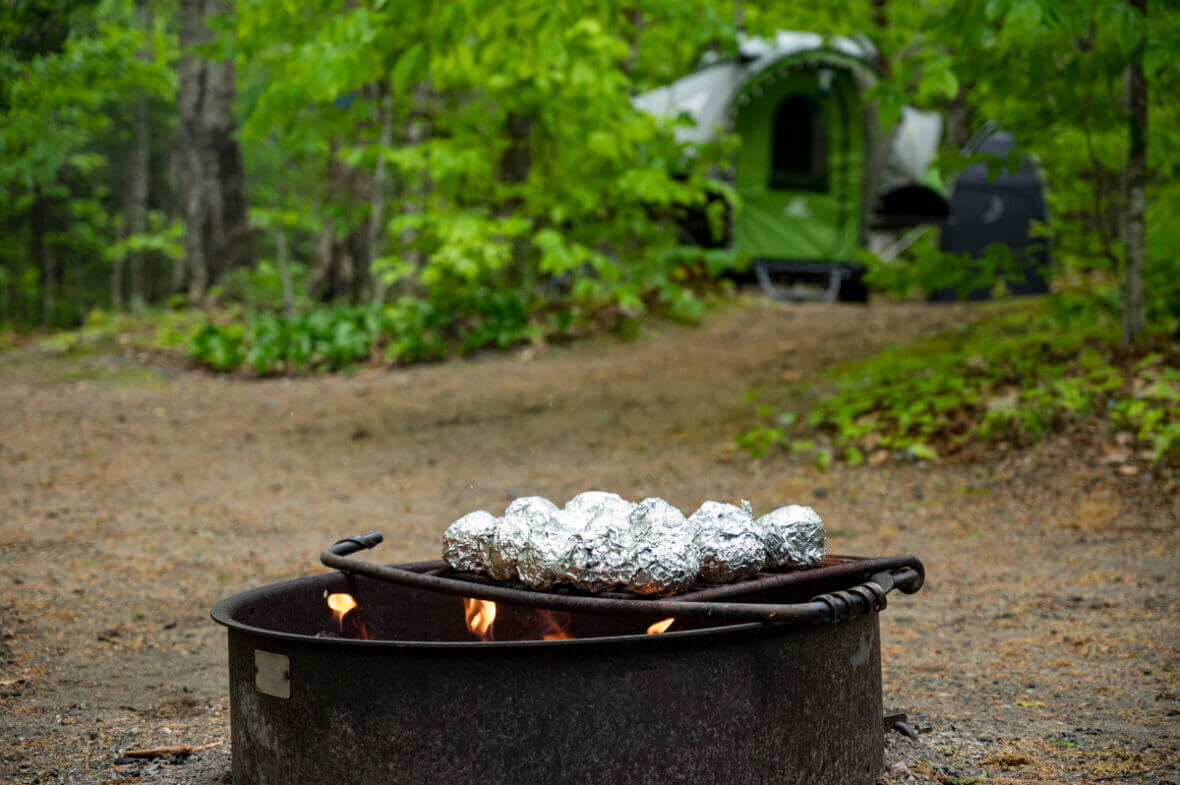 Their "tour" that started on the shuttle ride continued the entire way back to the shop. Prominent peaks like Mt Lafayette, the site of where Old Man of the Mountain used to sit, and Franconia Ridge were all on the roster. Not realizing it at the time, but one of the stops would become a very important spot for Karly and Ben. The path goes right through a campground where the brothers spend a lot of their time with their extended "camping family".
Though a self-proclaimed "flatlander," Karly had grown up in Florida under the influence of an outdoorsy dad who had taken her every weekend to the beach, parks, and on what she calls "little hikes." Still, neither she nor Ben had much, if any, camping experience.
As the two "flatlanders" dove deeper into their questions on camping, gear, how, where, what, etc, the brothers happily embraced their curiosity and shared their thoughts and recommendations. By the end of the ride, the beginnings of a friendship had formed and they exchanged email addresses.
This could be the beginning of something wonderful.
Leaf season came and went, leaving Karly and Ben only dreams of camping trips while they waited for winter to pass. With months of snow on the ground, Ben had started emailing back and forth with the brothers and as warmer weather was around the corner, the Afasanos were invited on the brother's season-opening camping trip.
"We'll take care of everything," the brothers declared. "Don't buy a thing…just come with us."
"So we show up," Ben recalls, "a couple of Floridians, with jackets we bought from Goodwill. We didn't have anything."
Karly laughs, "we brought comforters from our beds."
Much to their surprise, when the Afasanos arrived, their tent was already set up and they were truly taken care of. So, that was their first camping trip: Four days. Small side trips. Karly, Ben, the brothers, and a small group of friends.
"It was awesome," Ben said.
Every once in a while, you go out on a limb, leave things to chance, and the universe grants you something really special. This was that moment for Karly and Ben. Their inaugural trip with the brothers was followed by four more camping over the course of the summer and extended in the Fall, for another beautiful leaf season. They were officially part of the family.
In New Hampshire, there are 48 peaks over 4,000ft and for many, the goal is to hike all 48 of them, also known as NH48. Ben, one of the brothers, had one peak left to get his NH48 patch and invited Karly and Ben to join him. While the East Coast may not have the elevation of the Rockies, Sierras, or Cascades, there are mountains that can challenge even the most experienced of hikers. Ben's last peak is one of those mountains.
Mt Adams is New England's second highest peak, sitting at 5,774ft above sea level. The trail is 4 miles each way and climbs approximately 4,500ft. For those not familiar, that's a lot of climbing!
"I think he had ulterior motives," remembers Karly. "He had been doing a lot of hiking by himself and then he saw these two young-ish, unassuming, flatlanders from Florida and thought, "oh, this will be a fun hike, right? This won't be painful at all."
So, Karly and Ben made their way up Mt Adams with Ben and upon their return, were rewarded with an invitation to recover in Ben's very "cushy" pop-up camping trailer.
With 2 king sized beds, the Afasanos had "proven their worth that summer" and for the next couple of years, they laid claim to that side of the camper.
But it was so much more, and Ben knew it. Because though the brothers obviously loved camping, it had been something they used to do more often with a larger crew of family members and friends. But as it is for so many people, life, and other interests intruded—kids turned into teenagers who wanted to do other things, other responsibilities kept family members busy, etc — and by the time Karly and Ben met the brothers at the bike shop, the numbers of their camping family had dwindled.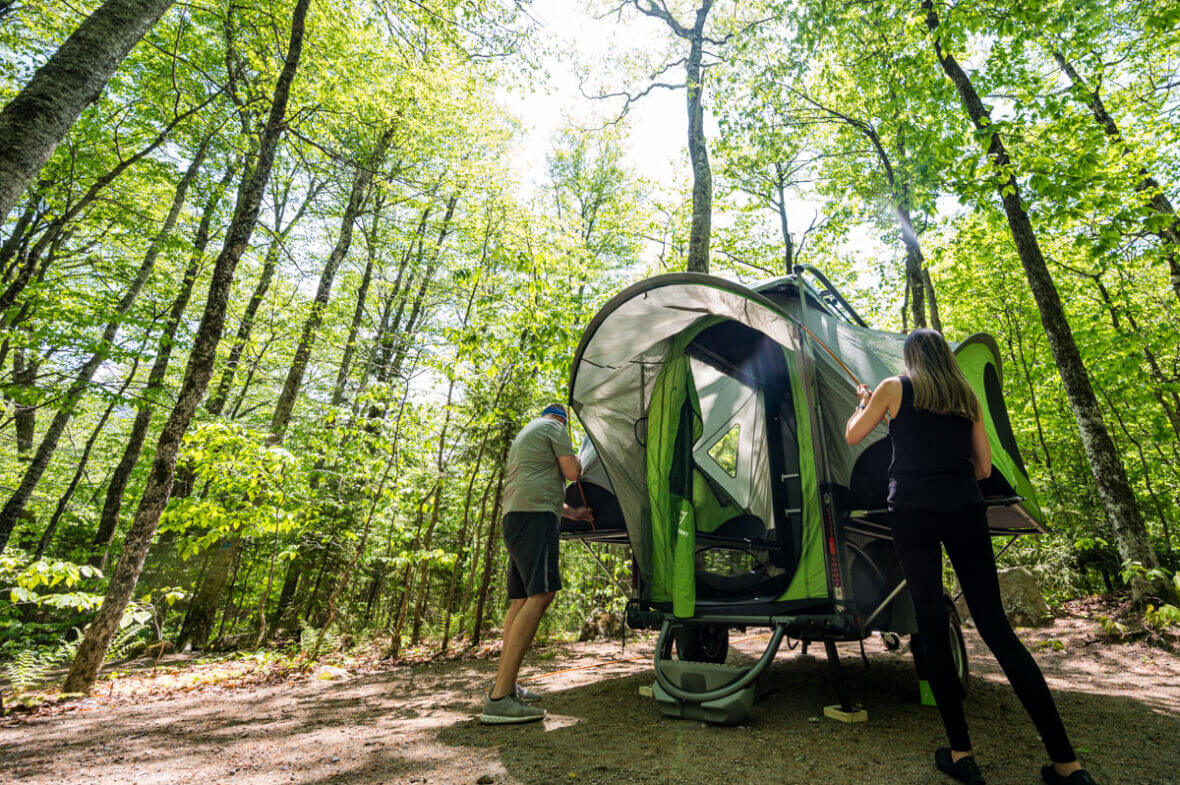 Starting a camping tradition again, and bringing the Afasanos along, had breathed new life into a new generation of campers. The brothers even have nephews who have started camping with the crew, and Karly and Ben—who are in their mid-30s—like to think they bridge the gap between the 20-ish aged nephews and the 50-ish brothers.
"I think for (brother) Ben it was kind of cool," Karly says, "because he gets to show off the mountains, which are kind of like his second home. The way he talks about the mountains, it's a pride thing. He sees the enthusiasm in us, and he lives through us, and kind of recreates his hikes."
For six years, this same crew had done a big camping trip in spring to open the season, and one in the fall to close it—with smaller camping trips throughout the year for anyone who wanted to join. On their last camping trip, there were 15 people.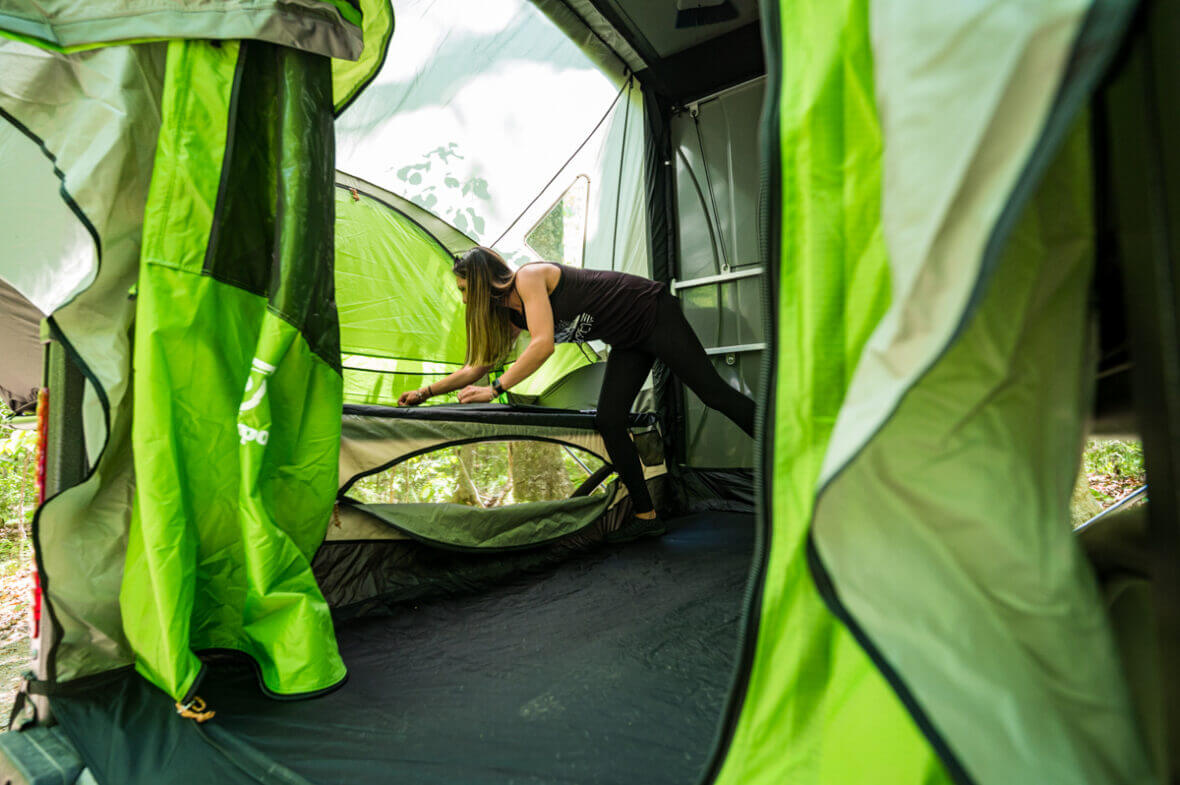 The Afasanos, who plan to someday move back to Florida, know they would have never stayed so long in New England if not for camping and meeting people—especially the people Karly calls their "camping family." And it has become a family, as Karly has used her nursing skills to help the brothers with ailing parents, and the other brother, Jon, a woodworker, has helped the couple remodel their house.
A camping family which will become even more special as the couple soon welcomes their first child. "Yeah, they've already claimed babysitter time," Karly laughs.
Before they move, however, there will still be many holidays—to which the Afasanos are always welcome—and plenty of "family" time. But there is still more to the story. Because, as most camping enthusiasts know, once you get started, you just can't stop.
The Afasanos were determined to welcome their baby boy into their outdoor life. When they moved from tent camping to, as Ben claims, "bumming it" in Ben's camper, they knew they needed something of their own. They have two small SUVs—a Subaru Forester and a VW Tiguan and had no interest in buying a large "gas hog", so Karly started researching lightweight camping trailers.
Shortly thereafter, while camping at Russell Pond, south of the Whites, another serendipitous moment happened. Their friend Ben came back from a walk to the bathhouse and said, "you have got to come look at this camper."
"We walked over, and the moment we saw it, it was like, 'This thing is awesome. We were completely blown away."
It was the SylvanSport GO, completely decked out with bike racks, solar panels…the works. It was love at first sight and when they got home that night from the camping trip, they hopped online and started figuring out where they could see one.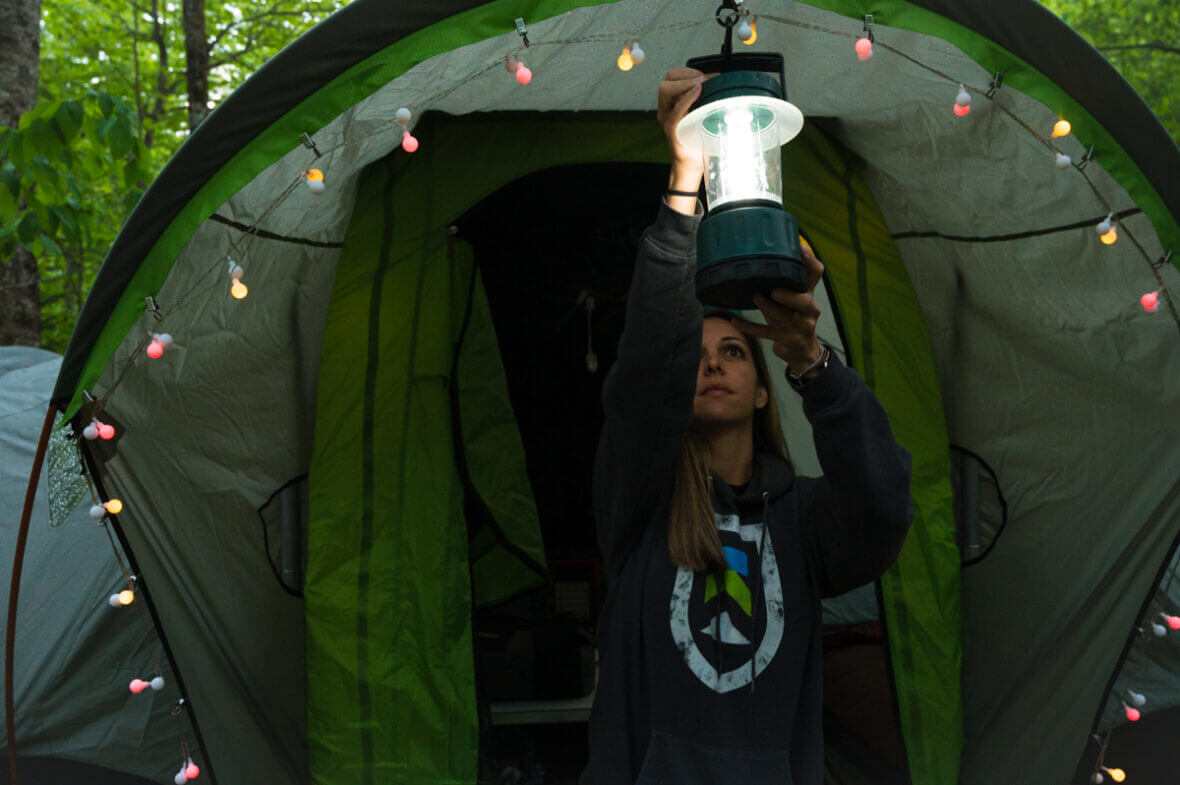 They found a dealer in Bangor, ME and it turned out they only had 2 GOs left in stock. So, they hopped in the car and headed North. When they arrived at the dealership, there were huge 50ft RVs filling what seemed like a 2 acre lot. When they found the GO, there was already another couple looking at it. They were literally the only other people on the lot…and they were both looking at the GO. At this point, not even sure if they still had two left, Karly immediately thought, "Oh no! They're going to buy our GO!"
The other couple did end up buying the GO, but the second one was still available. They placed a deposit and returned home to get a hitch installed on their vehicle. A week later, they returned, although because of work schedules, they were not able to make it until after hours. The salesperson waited on them and helped them get their new GO hooked up and safely on the road. They drove home in the dead of night, and never looked back.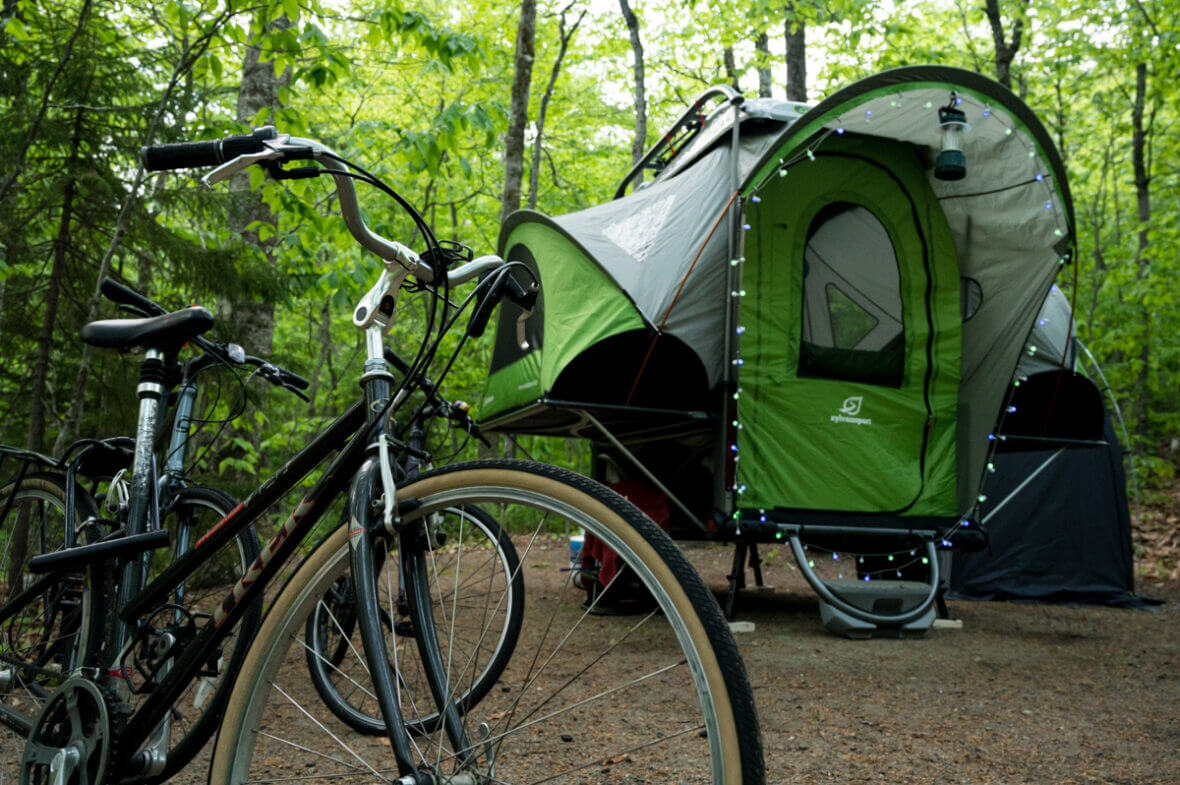 "It's just cool," Karly says. "It fits our lifestyle, and it's something we can grow into."
But like most outdoor-loving, soon-to-be parents, Karly and Ben would love for their baby boy to share their passion for camping.
"We talk about this all the time," Karly says. "I'm hoping our influence is ingrained in him, and that he will love the outdoors as much as we do."
Who knew a chance meeting with a pair of brothers in a bike shop in New Hampshire would lead not only to a newfound community, but a passion for the outdoors they would want to share with their son—and also, a whole bunch of other people.
"It's been great," Karly says, of their time with their camping family. "We try to do the same with others."
In fact, Karly and Ben recently took a friend camping, one who had moved from Australia to the U.S. Though the friend lacked experience, she fell in love with camping, with the GO, and with being outside.
"She calls us her 'outdoor friends,'" Karly says. "We kind of opened up the outdoor world for her. It's been a full circle thing for sure."
Sounds familiar, doesn't it?