The Most Innovative Camper in the World!
Over 10 years ago, SylvanSport created the Most Innovative Camper in the World. That's a pretty bold statement, but there truly is nothing else that matches the versatility, craftsmanship, engineering and design of the SylvanSport GO. There are a lot of campers, travel trailers and fifth wheels out there, but only one GO. So, what makes the GO so special?
The SylvanSport GO brings camping into the 21st century. We created a camping vehicle that sits alongside the world's finest outdoor equipment and embraces the spirit of adventure. The GO is an ultra-lightweight vehicle that quickly and easily converts from a utility trailer to toy hauler to camper…All-In-One! Whether you drive a Subaru Outback or a full-size truck, the GO is ready to haul your bikes, kayaks, ATVs and more, head out to your favorite campsite or bring home that new washer/dryer. More than just a camping trailer, the SylvanSport GO is the ultimate outdoor adventure vehicle!
One Trailer. Countless Uses.
Easily convert the GO from Travel > Transport > Camper
Even though the SylvanSport GO is full of storage and carrying capacity, it does not require a large, fuel draining vehicle to tow it. In fact, at only 840 lbs and with its low-profile, aerodynamic design, GO is the most efficient and well engineered gear-hauler in the world. GO can carry all your toys, so you can travel farther and more often than you ever thought possible. Carry more, spend less on gas, GO further.
Dimensions (L x W x H):

Overall: 143 x 75 x 53 in | 363 x 191 x 135 cm
Cargo Area: 84 x 48 x 18 in (39 cu ft) | 213 x 122 x 46 cm (1.1 cu m)

Weight capacity: 800lbs (363kg) deck / 200lbs (91kg) rack system
Rack system accepts most major rack manufacturers (Thule, Yakima, Malone, etc.) accessories
So much more than meets the eye. GO was designed to solve all your camping and hauling needs, seven days a week, regardless of your choice of activity. Biking, kayaking, canoeing, surfing…moving an apartment or bringing home stacks of building materials from the local home improvement store, the GO makes it easy with a Control-Tilt deck, which allows for ramp-free loading and a removable top that turns the GO into a true open-topped utility trailer.
Dimensions (L x W x H):

Overall: 143 x 75 x 81 in | 363 x 191 x 206 cm
Cargo Area: 84 x 48 x 48 in (114 cu ft) | 213 x 122 x 122 (3.2 cu m)

Tent pod & bed platform wings easily removable for ultimate versatility
Up to 800 lbs (363 kg) on deck & 200 lbs (91 kg) on rack
Optional Deck Height Extension Kit provides an additional 4.5 in (11 cm) of clearance (52.5 in | 133 cm)
If you really love to camp, the SylvanSport GO camping trailer was created especially for you. GO delivers that wonderful experience of tent camping: lightweight, airy materials, the feeling of actually being outside (no hard-sided walls), the sounds and smells that make camping so special. And with a variety of configurations, the GO is as versatile as you are. From 2 beds to a whopping king-and-a-half sized platform, the GO can be transformed to fit your needs.
Dimensions (L x W x H):

Overall: 154 x 124 x 108 in | 391 x 315 x 274 cm
Interior: 78 x 118 x 77 in | 198 x 300 x 195 cm
Bed Platforms: 78 x 34 in | 198 x 86 cm
Floor: 78 x 48 in | 198 x 122 cm

Multiple interior configurations accommodates 1-4 people comfortably, whether waiting out a storm or turning in for the night
Included awning adds an additional 114 in | 290 cm of covered living space (more than doubling footprint)
Sleeps up to 4
With multiple sleeping configurations, the GO can comfortably accommodate 1-4 people, with the sleeping platform expanding to an enormous king-and-a-half sized bed. So, whether you're going solo or bringing the family, GO is ready!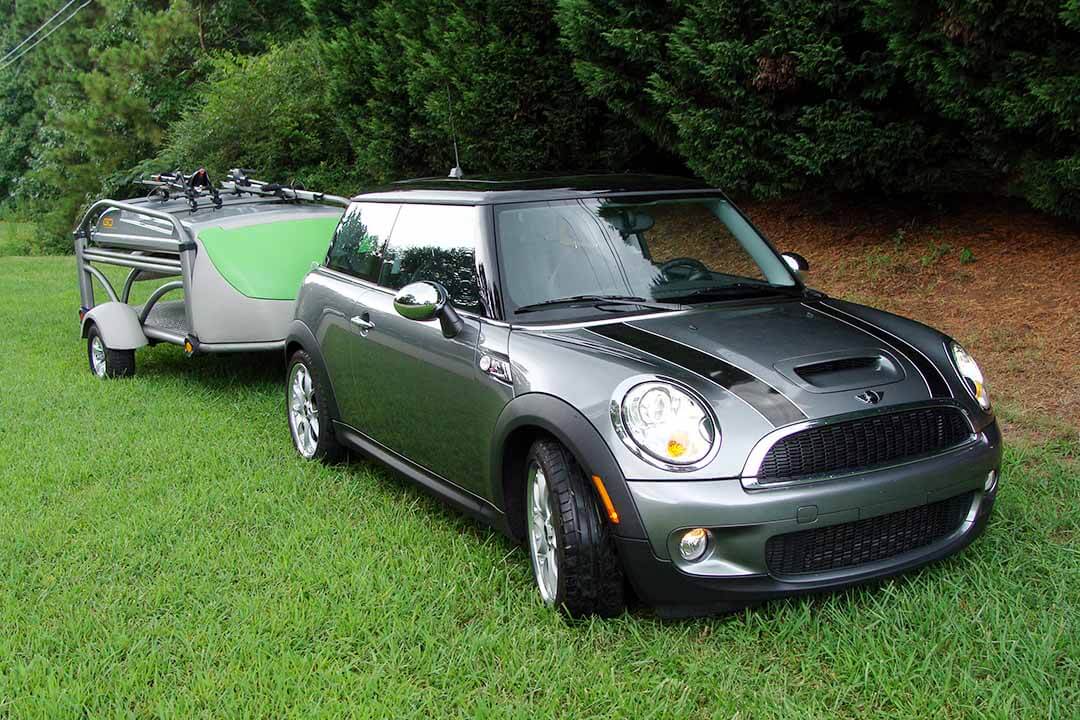 Lightweight
The GO is ultra-lightweight, at a svelte 840lbs (381kg). Our owners range from Prius drivers to Class B RVs and everything in between. With its lightweight, low profile and aerodynamic design, and custom tuned Dexter torsion axles, GO is a breeze to tow…and won't kill your gas mileage!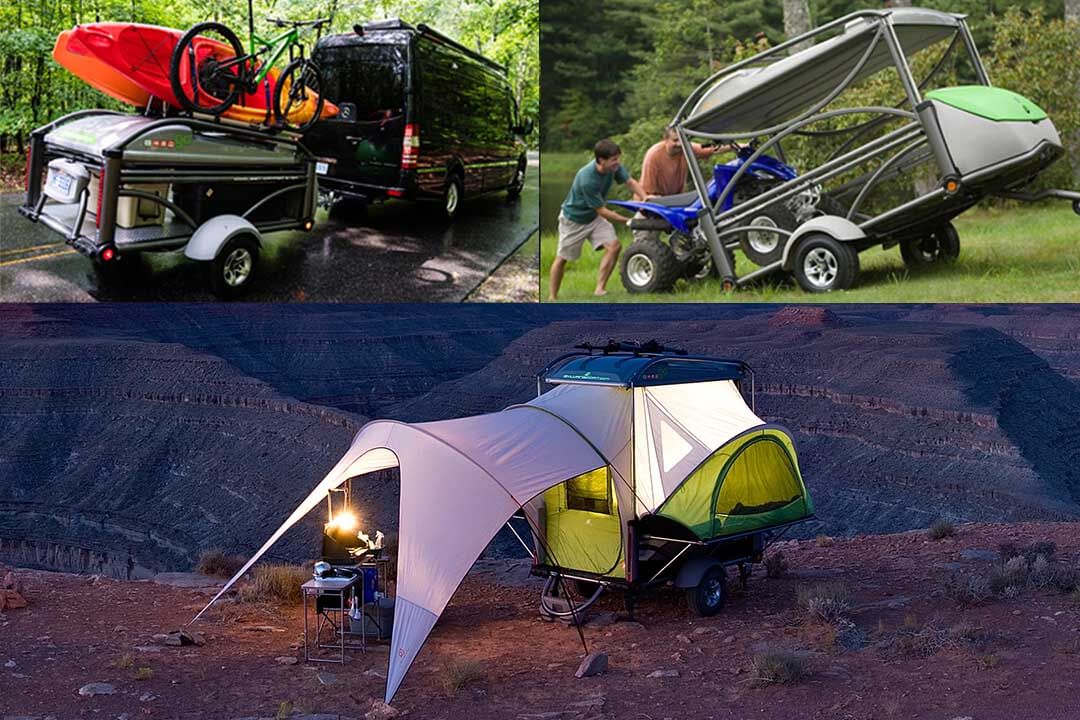 Versatility
Utility vehicle. Gear hauler. Camper. All-in-one. Head to the home improvement store to pick up sheets of plywood or mulch, then turn around, load up the ATV or moto and head to the woods – finally setting up camp for the night in a spacious, airy camper. This is what #GOlife is all about!
Interior
Set-up the interior in a variety of ways to suit your needs. A center table is the perfect place for up to 4 people to eat, plan your day or wait out a rainy day. Convert the table into a bench panel for additional seating or stow it away for even more room. The 2 table panels, included with the GO, also create the king-and-a-half sized sleeping platform.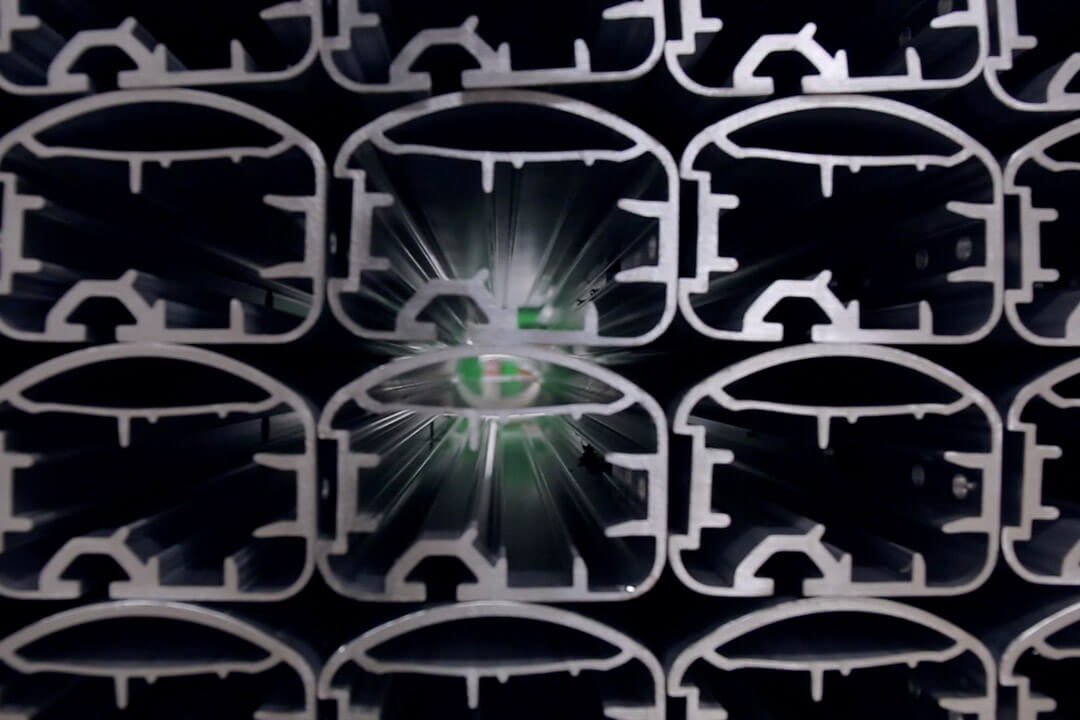 Aluminum Frame
The GO uses high quality, proprietary aluminum extrusions to create an incredibly strong, yet lightweight frame. This allows the GO to be extremely fuel efficient, durable and most important, corrosion-free, so it won't rust.
TIG Welding
Aluminum is much more difficult to work with than steel and requires a much higher level of skill to obtain perfect welds. Our welders are highly trained and skilled craftsman in the art of TIG welding, resulting in GOs that are made to last a lifetime.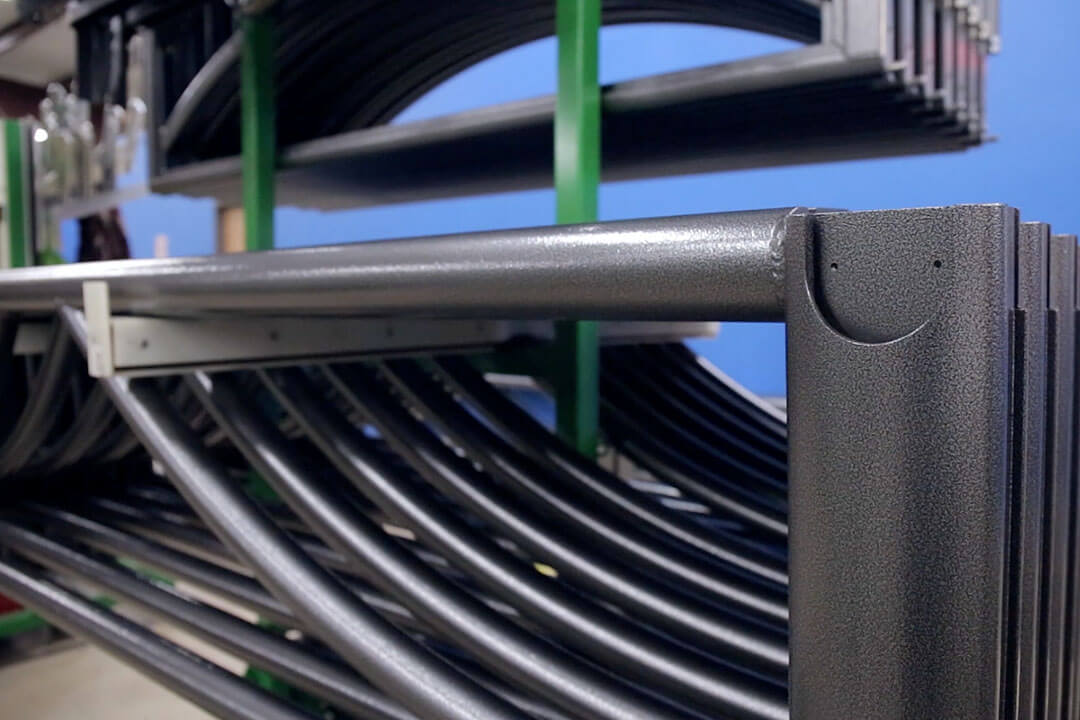 Powder Coating
While not necessary, SylvanSport goes the extra mile and applies a heavy duty powder coat finish to the GO. This helps keep your hands clean, from handling raw aluminum, and gives it an extra layer of durability from straps, bumps, and general use. And, we think it looks pretty sharp too.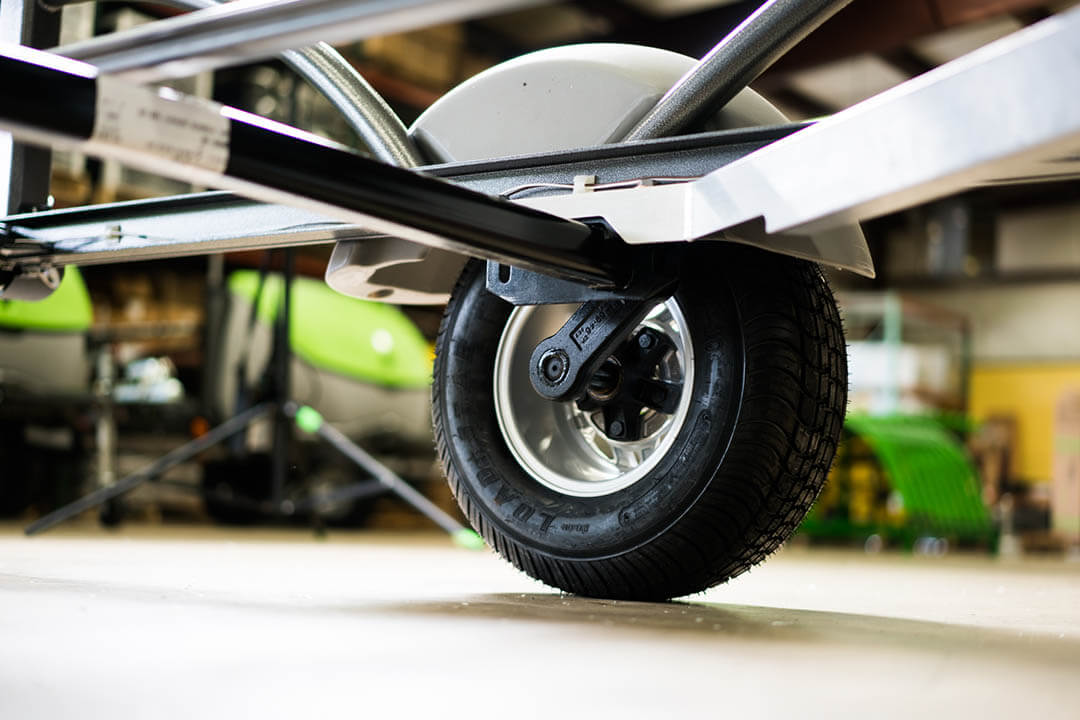 Axles | Wheels
One of the most important factors that determines the ride quality of a trailer are the axles and wheels. In addition to 10″ high quality tires, GO comes standard with cast aluminum wheels and a Dexter Torsion Axle. The torsion axle is custom tuned to the weight of the GO. This is important, standard leaf spring suspension trailers can be noisy and bounce as you travel.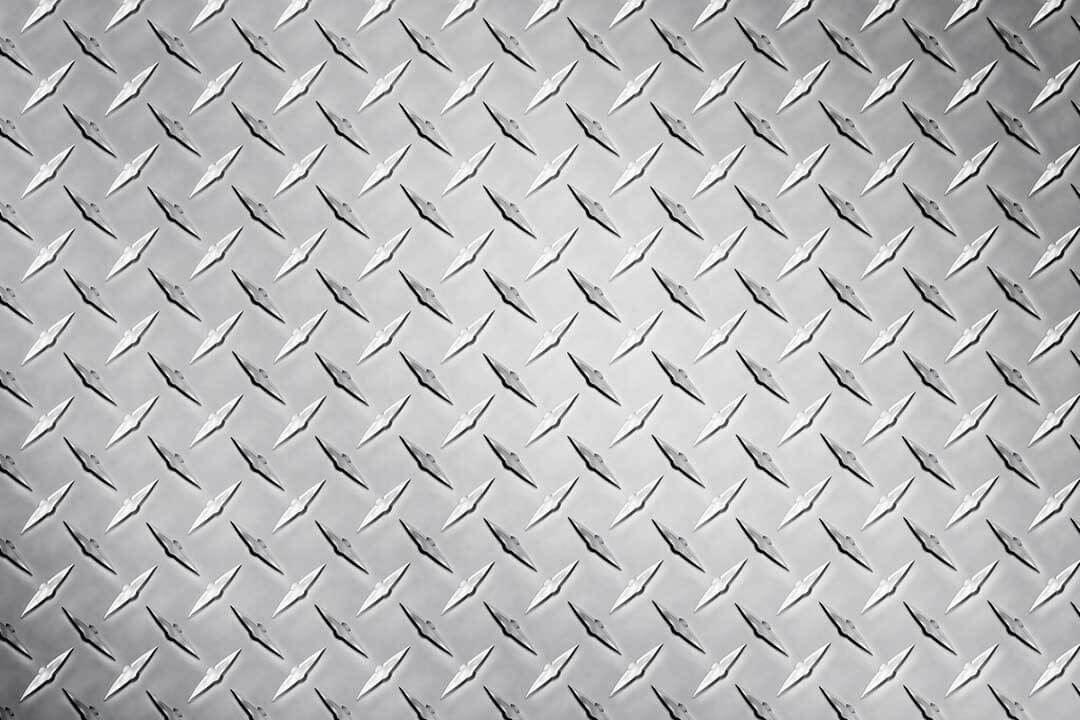 Diamond-Plate Deck
The Diamond-Plate Deck of the GO is specially reinforced, playing an important role in the structure of the trailer. Also, made from aluminum, the deck maintains its lightweight, durability and resistance to corrosion. The raised pattern also provides slip resistance for you and your cargo.
Tent Material
The tent material of the GO is a 220-denier rip-stop polyester fabric, 3x heavier duty than traditional family tents. The tent is also completely waterproof and seam-sealed, so there is no need for an additional rainfly. 3-way doors and windows (screen, clear weather protection & privacy), as well as strategically placed ventilation, allows you to control the airflow within the GO.