DILLON & EARL SUMMER CAMPING TRIP 2017 – New Mexico & Arizona: Well, we have CONQUERED Albuquerque, NM (not really conquered, just camped over night and had great meetings). We meet some super cool campers too (and they loved the GO)!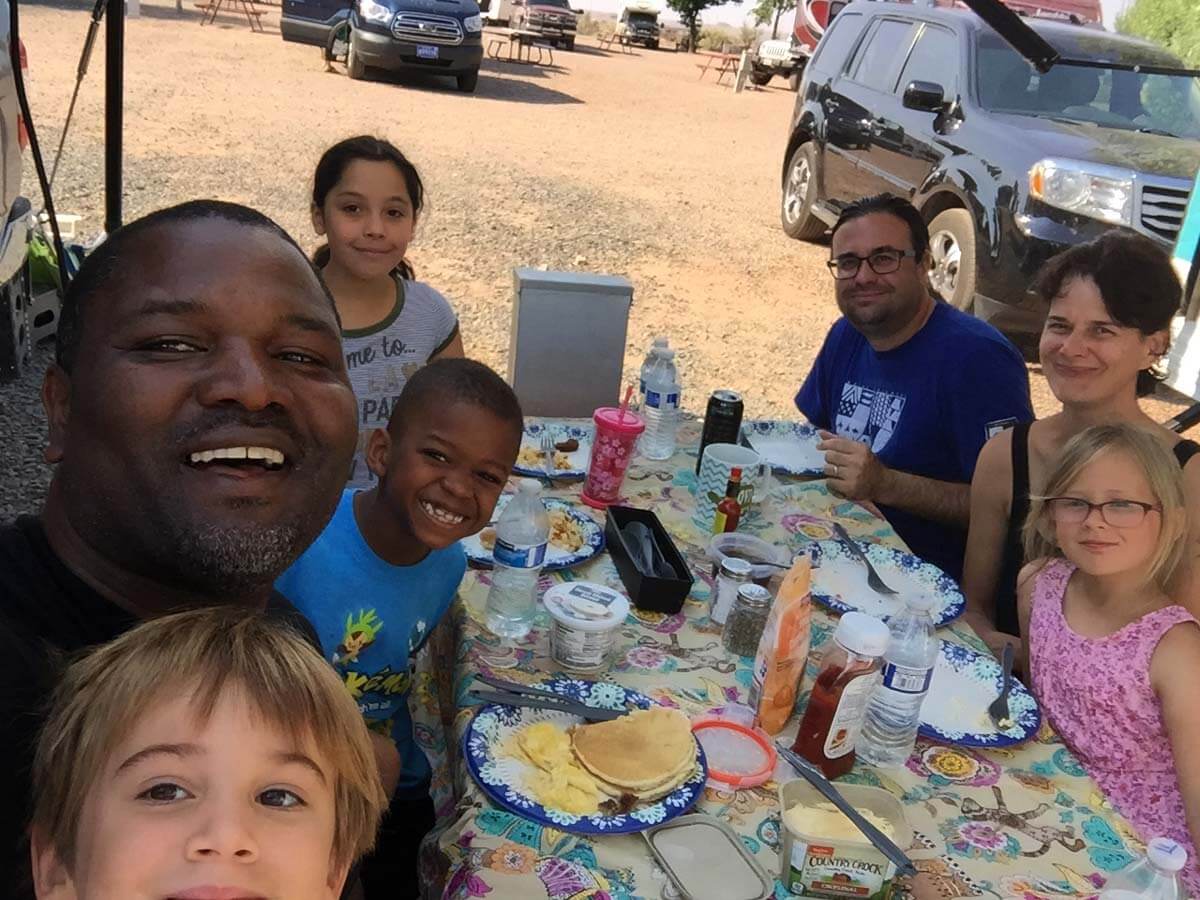 If you guys have been following us, you know that we have been camping at KOA campsites. Not only have we camped at the sites, we've also rated each site based on cleanliness, amenities, location, restrooms, showers and delightfulness!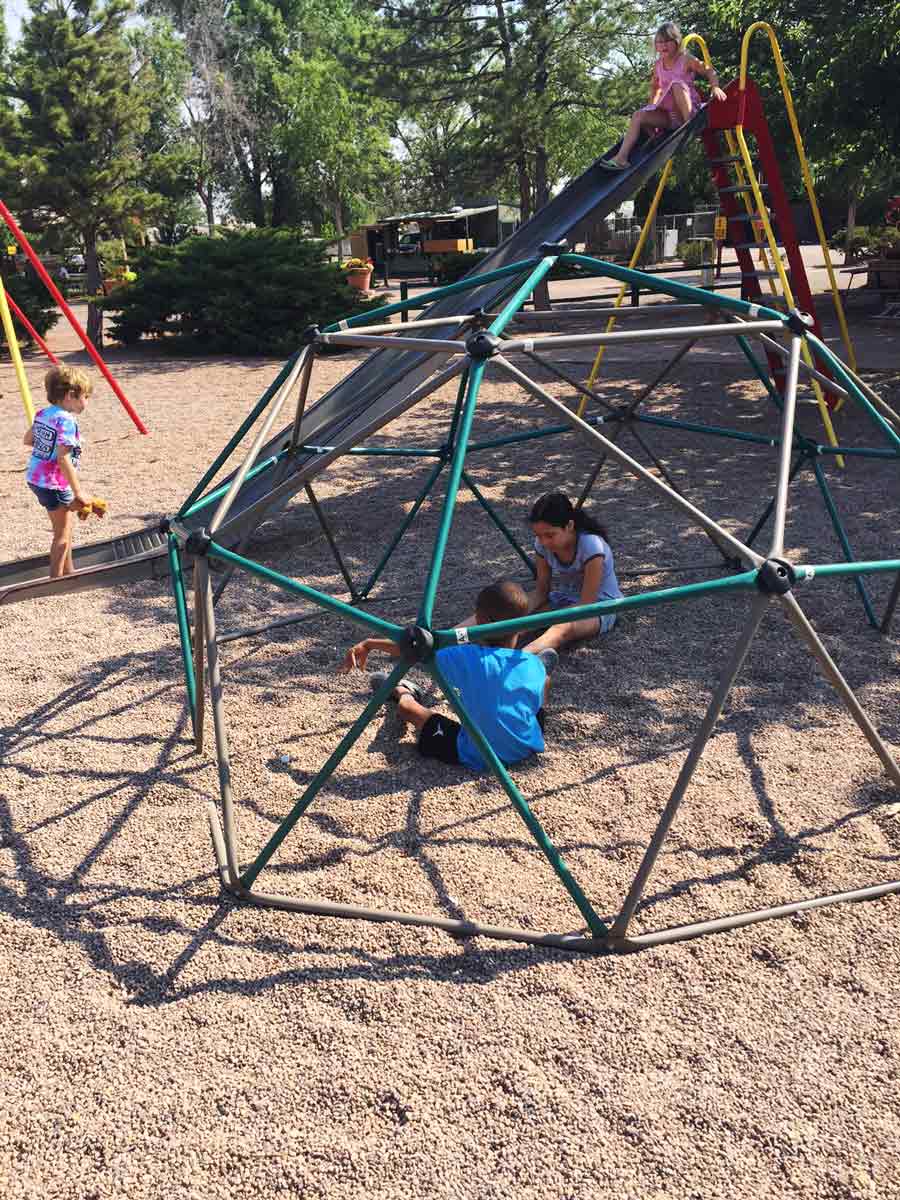 Well, if we had to give out an award today, it's a tie! Wisconsin Dells and Albuquerque Central are about as good as it gets (so far). In fact, when we walked into the showers earlier today, Dillon said, "Dad, this shower is big and the tile is super clean…I think this spot is the best!!!"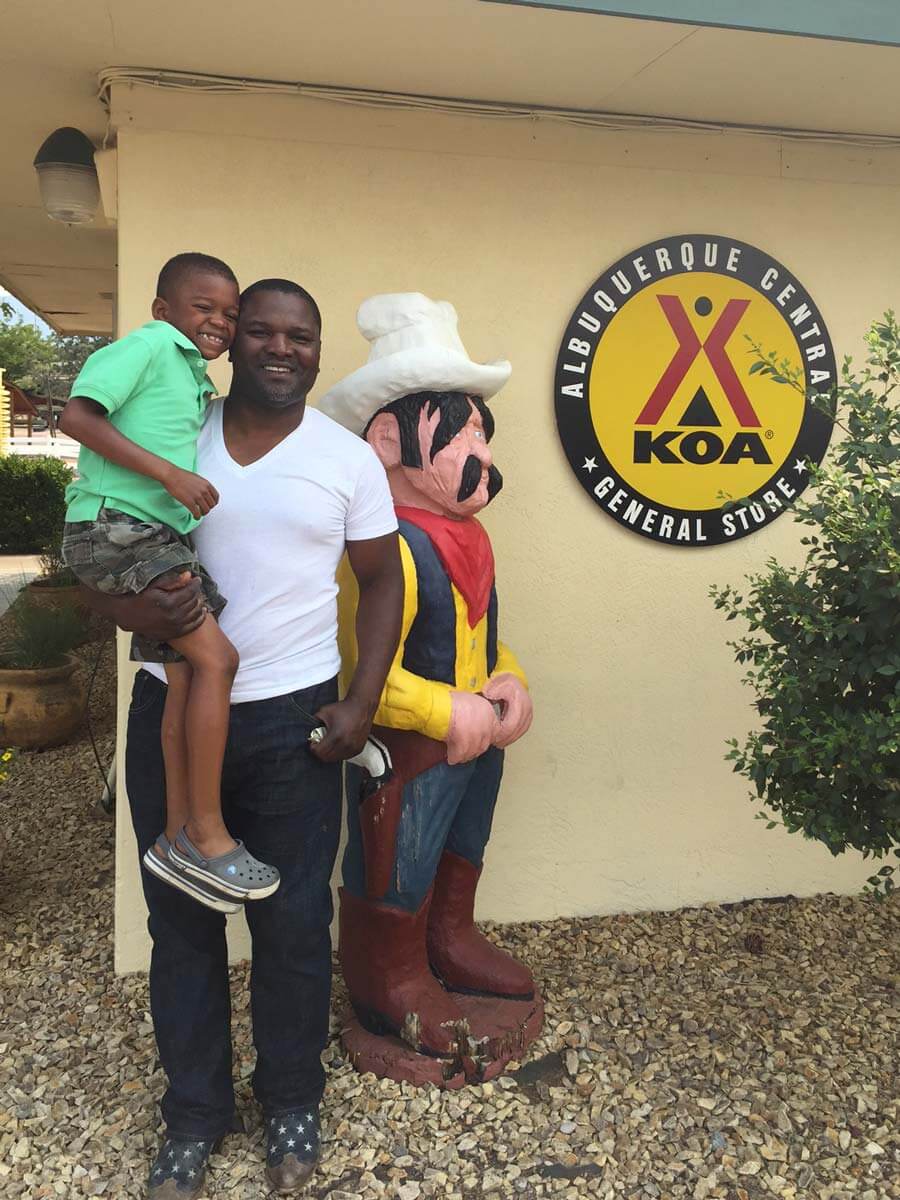 The misconception is that camping is dirty and unsafe. Don't get me wrong there are places off the grid that are sketchy, but for the most part, it's just like staying in a hotel (especially when you stay at a KOA and in a super cool camper). We plan to camp off the grid in Oregon and possibly Washington, but for the most part, our current moves work because of pools and other children for Dillon to meet (that dude never meets a stranger). 
We are now in Holbrook, AZ and it's 94 degrees at 7:30pm (yeah, I said 94 degrees at 8:59pm). It's a dry heat, so it's nothing like Columbia, SC, which is the hottest place on earth. We will camp here tonight and travel to Phoenix tomorrow morning after visiting the meteor craters, Painted Desert and Petrified Forest (trees that are soooooo old that they turned into rock). Dillon is super excited because he is a wildlife/nature fanatic and I LOVE it (I'm learning from him daily)!
Check out the photo of Dillon standing next to the camper. As you can see, his pajamas look a little small. Well, those pajamas fit him before we left, but now they are 2 inches short…he's growing y'all! My baby boy is growing right before my eyes 😉 
I would like to say, "I AM VERY PROUD OF MY SON, DILLON B. HUNTER!" Before the trip, Dillon was so afraid of the water that he would only put his feet in and sometimes play around in 2 1/2 feet of 3 feet of water (meaning he would stand on the stairs and hold the rail). I'm not sure what made him so afraid of the water, but maybe it was because a few years back I took him down Sliding Rock (a natural rock slide) in Brevard, NC. When we reached the bottom, I thought the 8ft deep water would allow me to push him to the top on to the rocks to safety. Instead, I went down and so did Dillon (only for a second), but that was enough to scare him (I'm making excuses for him which I try not to do, but it's my only conclusion). I'll get back to Dillon and how he conquered his fear of water shortly. 
We have spent the last two days in Mesa, AZ (minutes away from Phoenix, Scottsdale and Tempe). Our intentions were to camp in the area for a few days, but THAT WAS A LIE (based on temperatures reaching 120 degrees). I'm from Columbia, SC so I know heat and humidity, but this heat is dry and caused us to rethink life.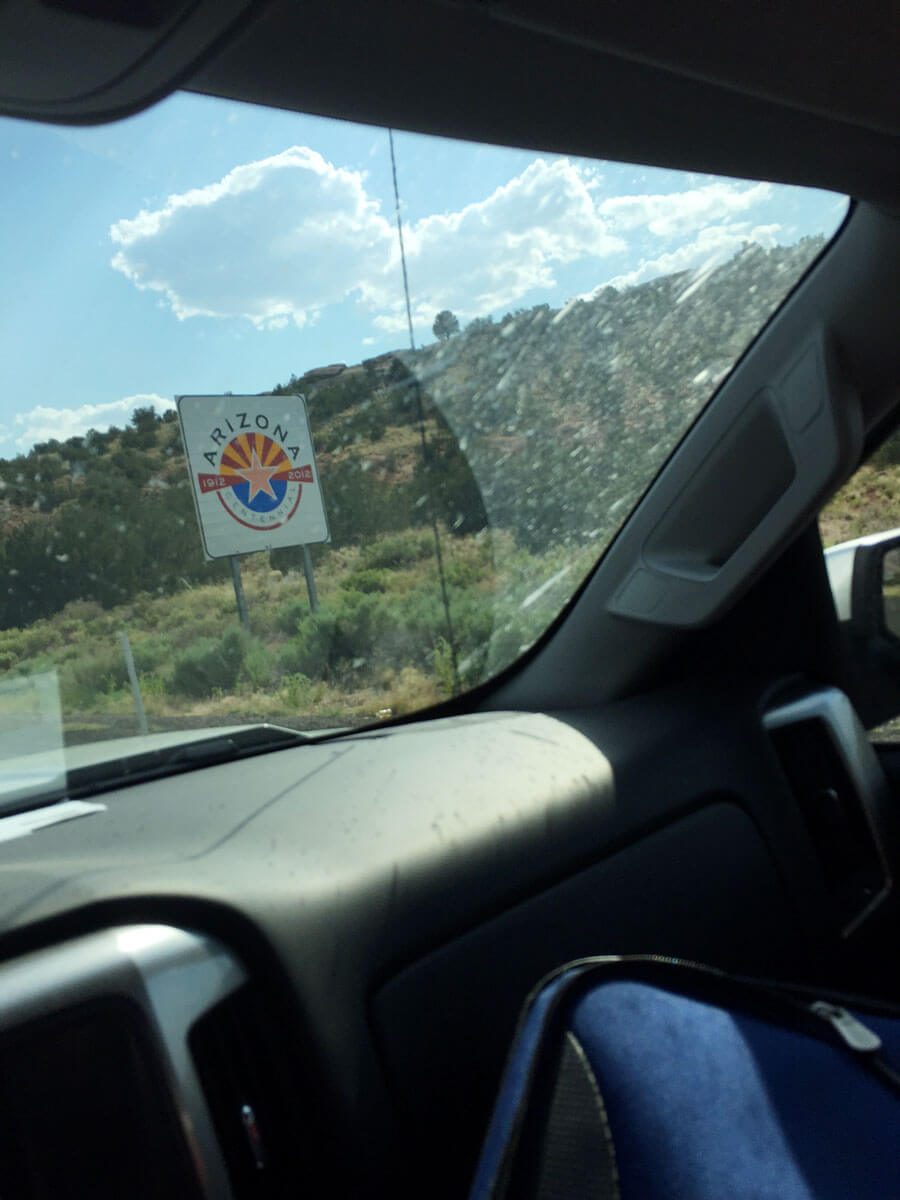 Growing up, I was always taught, "if there is a will…there is a way". Well, the way we survived the AZ heat was being invited by Ed Durham (college football teammate) to take a dip in his family pool. When we arrived at the Ed's house, I was skeptical about swimming at 2:30pm after seeing the temperature read 120 degrees. As they say, when in Rome, you do as the Romans do (so we did). 
Now, back to why I'm so proud of Dillon. Earlier in the week, I told Dillon that he was not allowed to get back into the pool until he spent 30mins with me learning to swim (I was stern on this because I know how dangerous water can be). While I was in the kitchen catching up with Ed and and his wife, Robin, I noticed Dillon was in the pool with Ed's beautiful daughters (he was using noodles to help him float in deeper water). About 15mins passed and I decided that it was time to give Dillon his next 30min lesson. By this time, the Dunn's, another family arrived and they had two young boys (both could swim and one was a canon ball junkie). When I stepped outside, Dillon said, "Dad, I can do a canon ball". I was like "really?" (because I knew he had to do that canon ball in deep water which is the same deep water he was afraid of days ago). Before Dillon attempted his canon ball, I jumped in and did "somewhat" of a canon ball to be sure I was there to assist him just in case he sank like a rock. Once in the water, I put on my sunglasses, walked to 5ft deep water and I yelled to Dillon "jump…jump…jump…jump" and finally I said, "JUMP DUDE!!!" Dillon replied "Dad, I'm going to trust you now, so please don't mess up" LOL! Well, Dillon jumped and I moved back inch-by-inch allowing him to swim to the other side of the pool (it was more like a survival swim but dammit, my boy did it). After which, he was feeling GOOD about himself, everyone was clapping and cheering for him. In fact, all were so proud of him, they began to encourage him how to swim underwater (telling him he would be able to swim faster underwater). Dillon tried, but he's still working on trusting himself in the water. I suspect he'll be ready to swim like a fish after the trip is completed). 
I would to THANK the Durham and the Dunn Family for encouraging my baby boy because as they say, "it takes a village to raise a child (in this case, it took a village to help encourage Dillon to swim).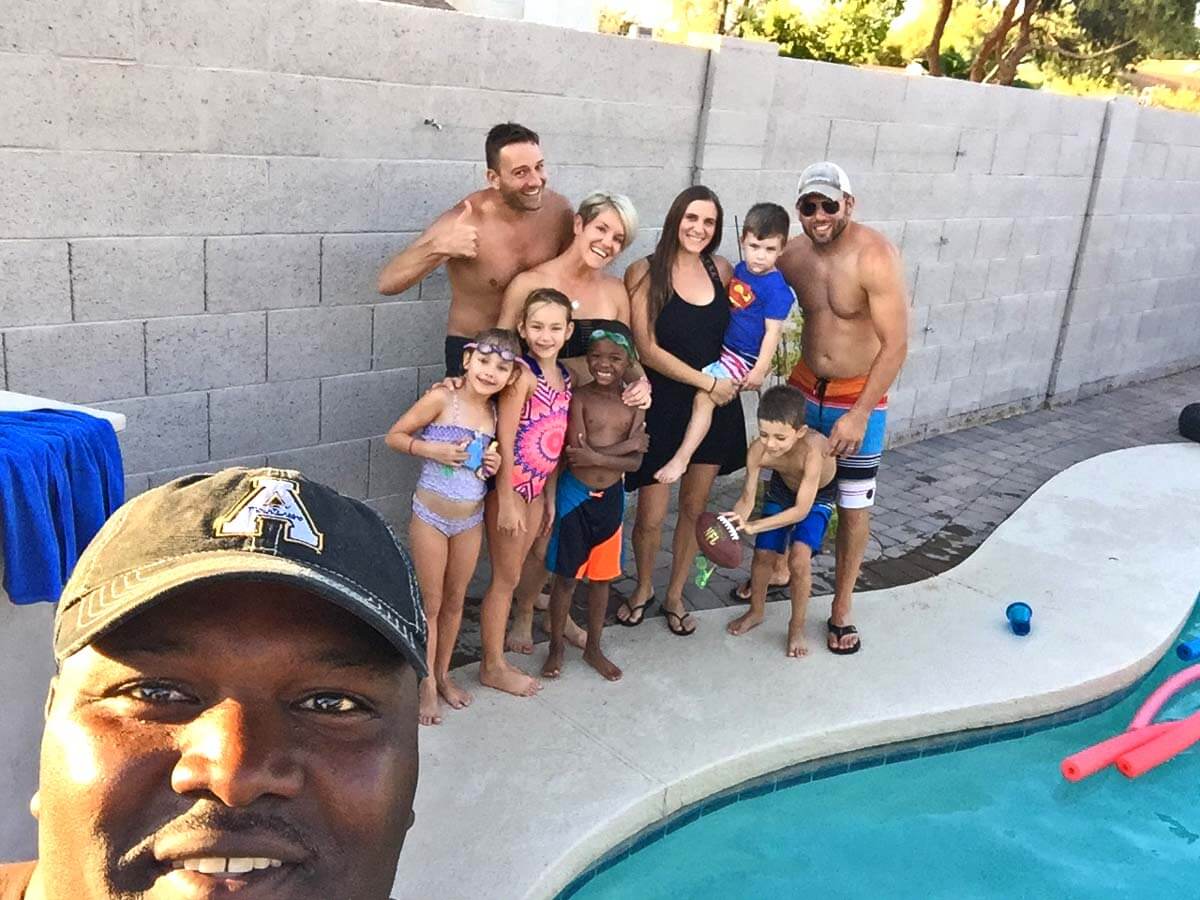 Moving on with more excitement. We were invited to stay over night at one of our dealer's house (World Wide RV) in Mesa (it was still 105 degrees when we arrived but after swimming all day, we felt cool). Their home is very eclectic, nestled in a revived area of downtown. They have a family of 6 (two boys Dillon's age and two teenage girls) and Dillon walked into their home as if he has been here before (he does it everywhere we go).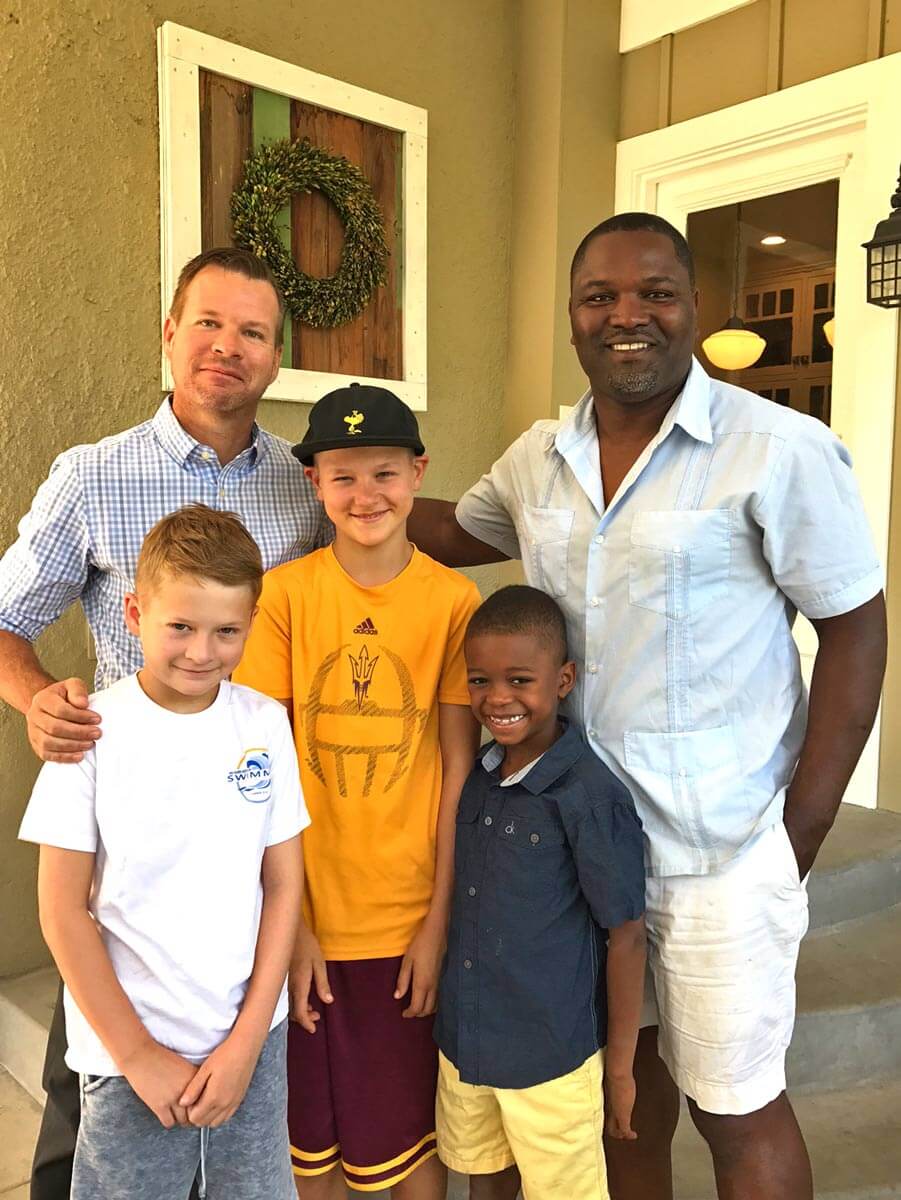 David and his family ordered pizza, we discussed family, I FaceTimed with my wife and Dillon said a quick hello-goodbye (he and Jack needed to go to the studio and make some music). Whether it's for work, personal or both, being able to connect with people on this trip has been one of my highlights.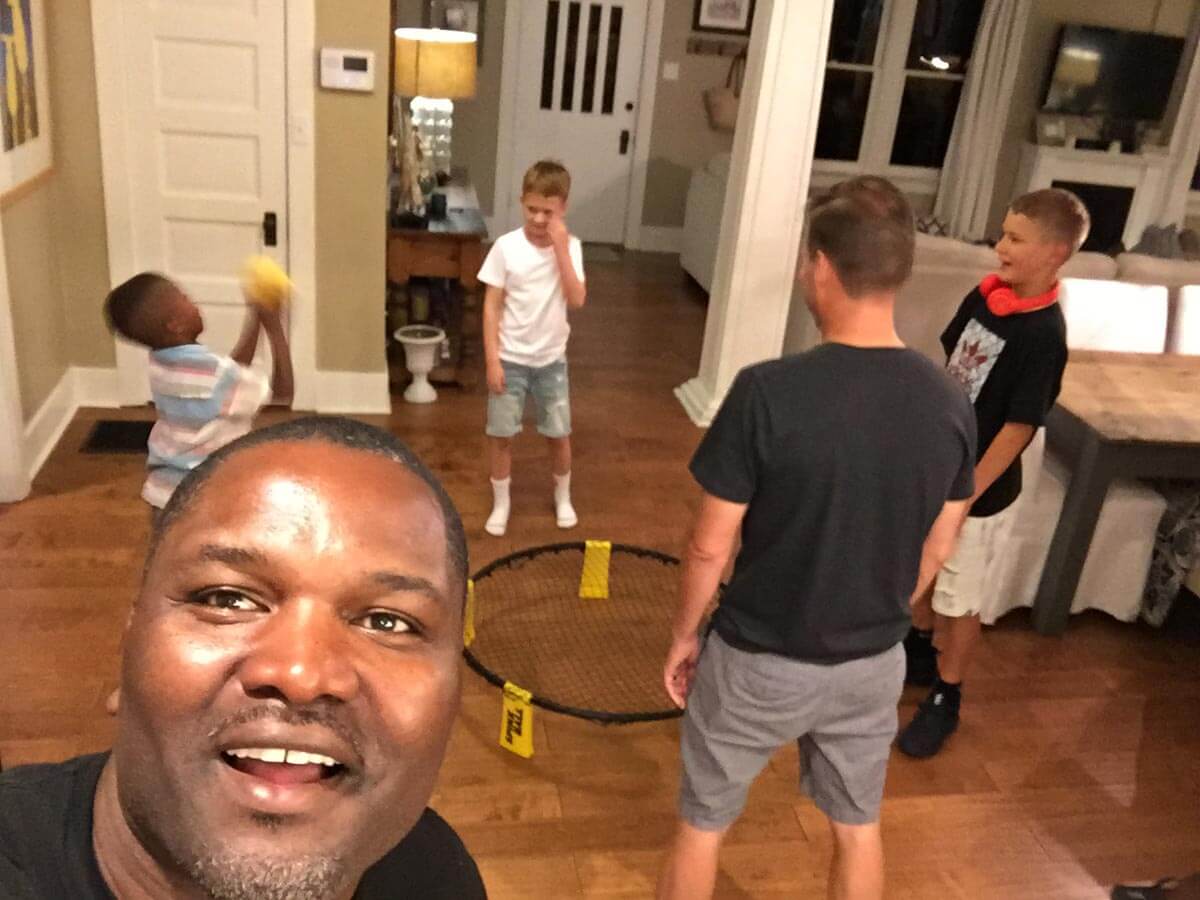 Well, I have a meeting with David and team at 9am so I better get Dillon up and ready! We will leave Mesa around noon. We'll visit the Grand Canyon on our way to Las Vegas for a day or two. Then we're on our way to Southern California. Again, thank you guys for following us! 
OAN: Dillon is ONE OF A KIND. I'll explain more as the trip continues 😉