DILLON & EARL SUMMER CAMPING TRIP 2017 – SOUTHERN CALIFORNIA EDITION: We have CONQUERED Southern California or may be the correct words are "Southern California has conquered us."
We arrived in Banning, CA around 8:30 Wednesday night. Since the KOA front office was closed, we decided to highjack a camping space until the next morning (it's normal to check-in late…they leave available space info in the mailbox). When the office opens the next morning, we'll pay and be on our way (the honor system). Since we hadn't camped in a few days (too hot in Arizona and Nevada), we traveled to the store and stocked up on supplies. We picked-up our normal breakfast, lunch and dinner food, and also grabbed assorted berries for "Bougee Dillon." He won't eat fruit like apples and oranges, but blackberries, raspberries and any other expensive fruit packaged in small plastic trays suits him fine (especially when they are out of season and a package with 10 berries cost over $8).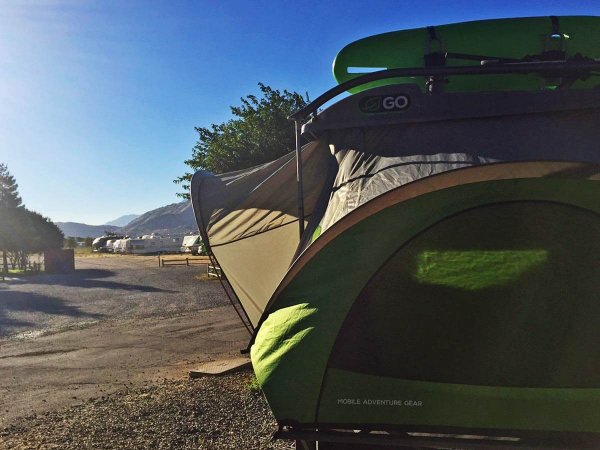 When we returned to the campground, I noticed there were at least 10 jackrabbits running around. After saying prayers and putting Dillon to bed, I sat outside and started doing emails. When I clicked the flashlight, I noticed there were about 30 jackrabbits running around the site. I immediately thought of that Visa commercial where the older gentleman was writing the check and those rabbits multiplied (I know, I know, I was thinking to much). 
After going to bed late, we woke early, showered and I cooked breakfast on my Fire X Disc grill (it's a cool grill and easy to pack up then store). The sausage, bacon and eggs were cooked to perfection! We packed up the GO, paid for our space and started on our way to my first meeting in Murrieta, CA. My clients were waiting, but since they have been following our blog, they immediately went after Dillon and he LOVED it too (almost as if I didn't exist lol).
After the meeting, I hopped in the car to reflect on what I had seen. Dillon absorbs so much info so quickly that adults enjoy talking to him. So, I called my Mom and asked her if I was that way when I was seven. She said, "Nope, you weren't as smart as Dillon, you just told everybody what to do". 
After driving in Los Angeles traffic and after another meeting, we decided to camp at the Pomona KOA (nice location just outside of LA). The place was well kept and the people were just amazingly nice. The hot tub was hot and the pool was super cool. After dinner (burgers), we decided to get in the pool. Since Dillon can swim now, he's all about jumping right in and taking off until he gets to the deep section. The day before, he swam the entire length of the pool but this time, he was afraid to do it again. That moment became a teaching moment and it was more about life rather than swimming. After our conversation, the kid swam the length of the pool (just a little encouragement will do wonders for you and the person needing it).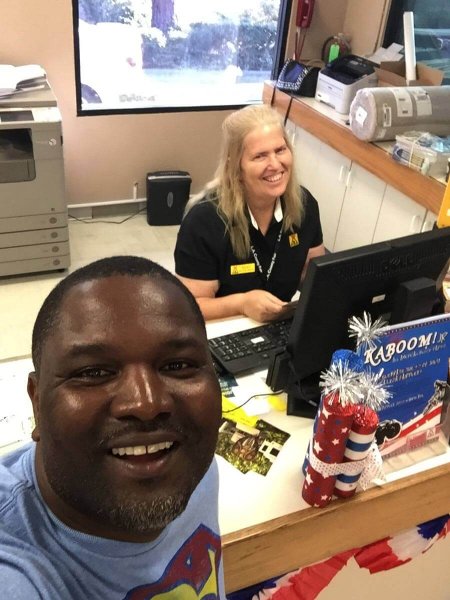 The next day, we cooked breakfast (pancakes, sausage and eggs), packed up the camper and started on our way to another meeting. Once again, Dillon was the focus point when we arrived (this blog has gone viral). Someone asked him if he was having a good time traveling with me and he replied, "Of course, he's my Dad." (Yep you guessed it; I walked into the restroom to wipe my tears of joy). We have bonded so much on this trip, so if it ended today, I'm more than satisfied!!! 
HOLLYWOOD…
My Appalachian State classmate/football teammate Jackie Avery (Jackie Lee is what I call him) and his wife Brianna McMinn Avery, along with their two children, are traveling west as well. Before they left North Carolina, Brianna stated that they will be in traveling by train on a 15-day trip and they will be in L.A. at 5:30am Friday morning. I was determined to meet the Averys because I haven't seen Jackie Lee since 1998 (I altered our travel schedule just to be in L.A. an extra day). Jackie Lee is my dude and on the football field, he was a BEAST too. He didn't say much; he wasn't that rah-rah guy, but that dude made plays! While all the other football players, including me, were out doing things we probably shouldn't have been doing, Jackie Lee stayed in his room and played Mortal Combat…ALL DAY AND NIGHT! In fact, he and I decided to use the Mortal Combat "FINISH HIM" moves on the football field when we made big plays and we made a TON of them too! 
Before deciding on a place for dinner with the Averys, Dillon and I decided Uber'd it to Hollywood Blvd. I have been to L.A. many times and I never had the desire to walk the strip. Since Dillon is a newfound M.J. fan (Off the Wall album), we had to find MJ's star and take a pic ;). We took a few other photos, enjoyed the scenery and allowed an artist to attempt to draw us…the work doesn't look like us, but it was fun. Truth be told, I was EXCITED to meet up and see Jackie Lee. I have never told Jackie Lee how much I admired him, but it's true! He came to practice EVERYDAY ready to work and get better. He never complained and his play on the field was second to none after that first kick off! During dinner, we reminisced on our Big Play dance and it was very refreshing to see him with such a beautiful family. Brianna, thank you for setting-up the visit…you ROCK! 
After dinner, we ALL were tired! Dillon said two words to me when we returned to our dwellings…. "Goodnight Dad" and off to sleep he went. I stayed up for a few hours to catch-up on emails and to reflect on the day. Social media is pretty cool…I was able to connect with my homie and his family 2K miles away while we both were on a Western America trip ;).
Today, Dillon and I will be traveling North to Sequoia National Park. I heard they have trees so big, we'll be able to drive our vehicle through…I can't wait! We'll possibly spend July 4th in Yosemite National Park, but who knows.
What are some of your favorite outdoor adventure spots in Southern California? Let us know in the comments below.