DILLON & EARL SUMMER CAMPING TRIP 2017 – NEVADA EDITION: Thank you, Nevada, for a real good time! We left Arizona 120 degree weather only to experience 105 degree weather in Nevada. However, the lights and sounds of Vegas cooled us off enough to enjoy two days of work plus play.
Our first stop was the Hoover Dam, where we met photographer, Robert Baker. Robert lives in Las Vegas and has followed our postings since we left North Carolina…. he is STOKED about our father and son trip across Western North America. He thought the trip was so cool, he offered to give Dillon and I the tour of Hoover Dam, photograph us at Lake Mead and make a short video as he believes our trip will be a movie someday (I believe it will be too).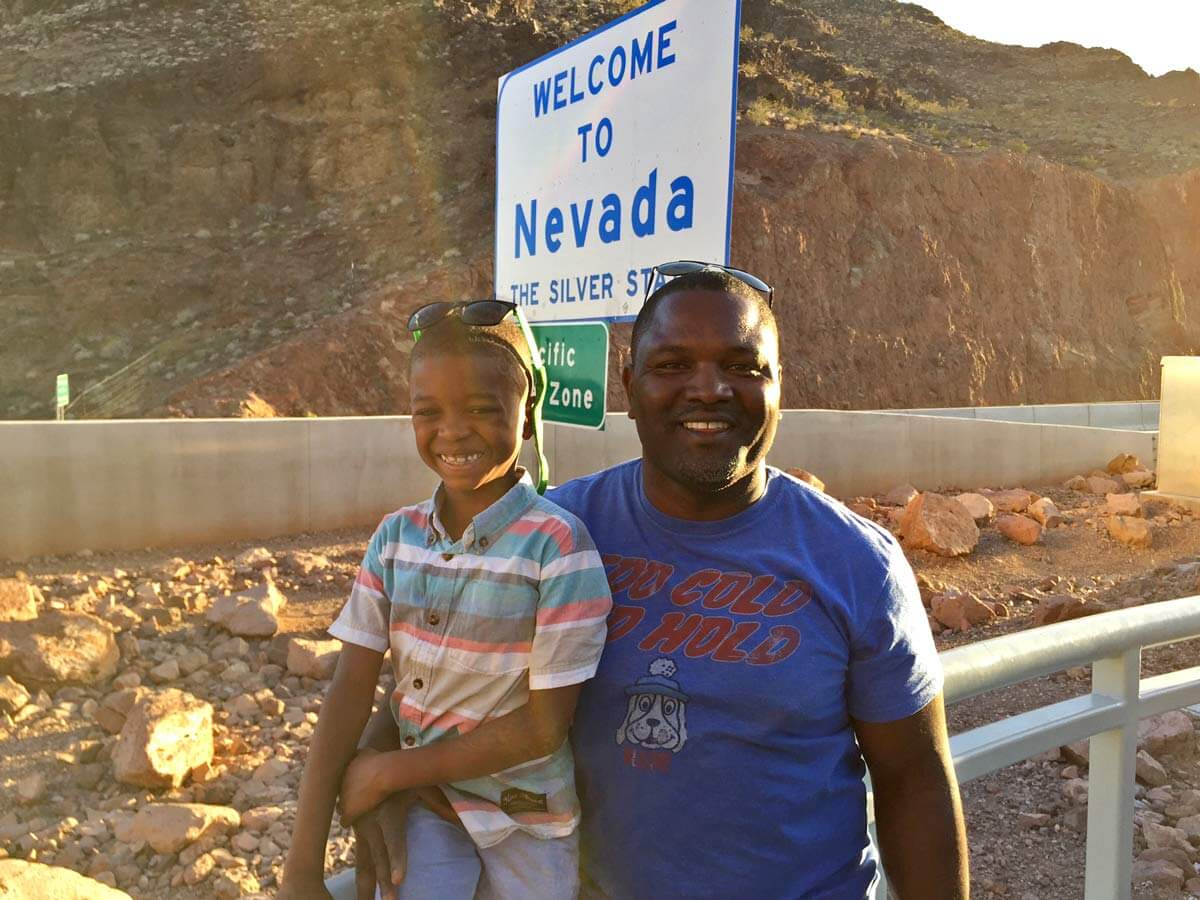 Sooooo, I've traveled to Nevada many times, but I had never visited the Hoover Dam because I didn't think I would be interested in seeing a "DAM." Ohhhhh was I wrong! In fact, it was fascinating to see how big and well kept the property is after all these years. Since the Dam is Federal property, there is a guard at the entrance, but he was pretty laid back and only asked us "What are your plans today?" Robert was driving so he replied, "we plan to take a hike to Hoover Dam and take some photos". The guard said "Ok, enjoy your time." As we pulled off, I said to myself "I want his job when I retire from #DRIVINGTHEBUSINESS."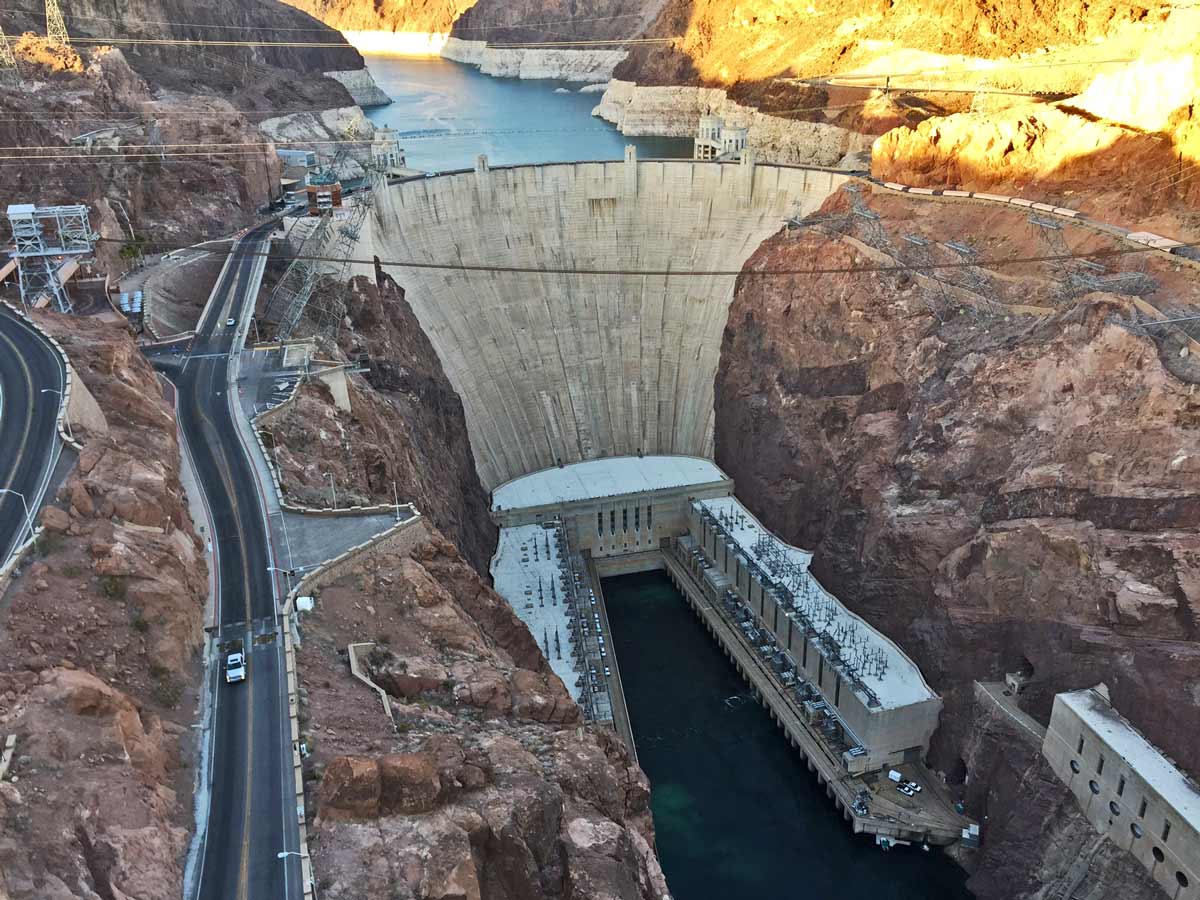 As we started to walk up the stairs to the view the Dam, I noticed Dillon lagging behind. My first thought was that he was tired, but my second thought was he's taking in ALL of the scenery. I was correct with both thoughts, so as Rob and I continued to climb the stairs, I watched my son examine the rocks found on the ground. He was also reading the panels with the history of the Dam. At one point, I asked Robert how many years it took to build the Dam? Before Robert could answer, Dillon had already yelled, " Five Years Dad!!!" Robert and I both chuckled while looking at each other with that.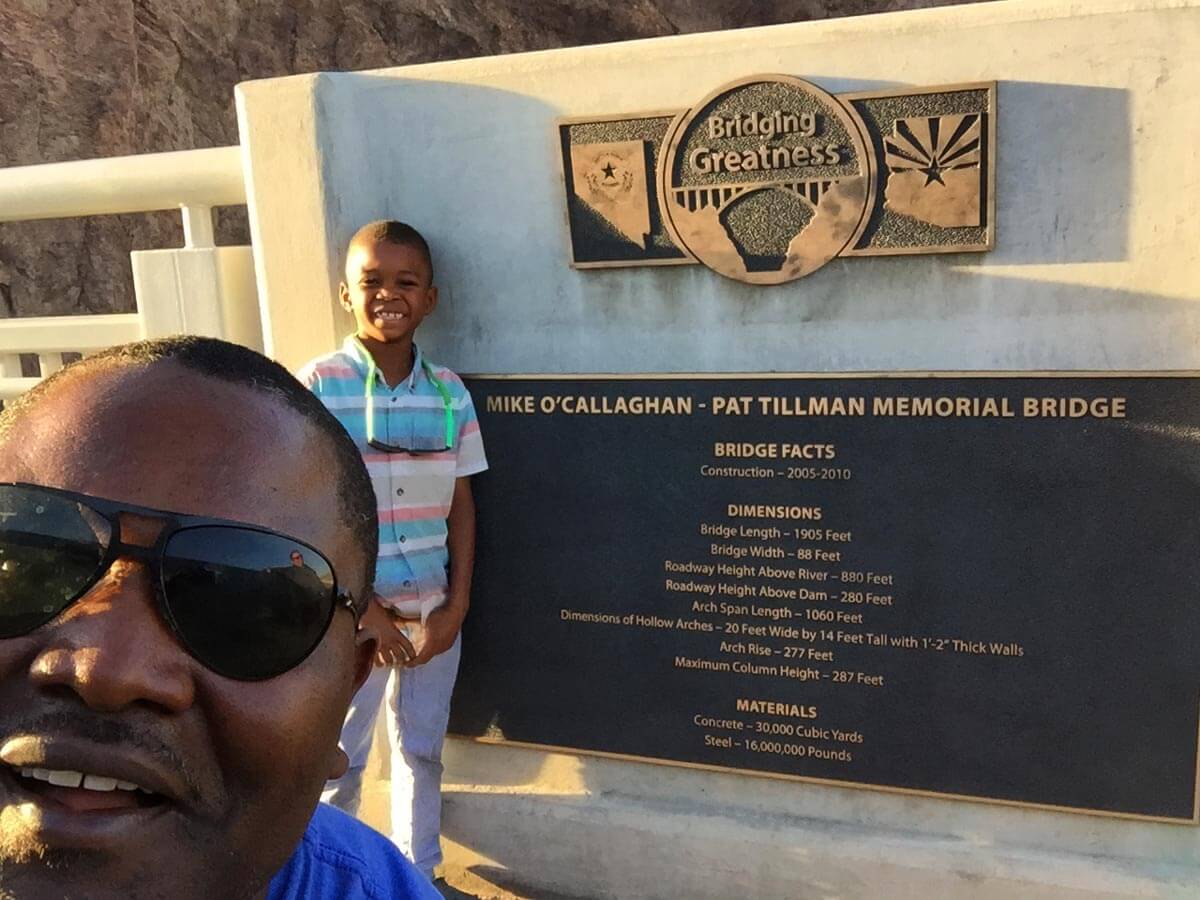 Once we got to the top of the stairs leading to the Dam, we decided to take several photos while chatting about the history of the Dam. Robert knew quite a bit about the Dam, which made the walk across the scenic bridge delightful. The conversation also occupied our time, as Dillon and I were a bit "nervous" (not scared) to walk across the Dam. The view of the damn from the bridge was amazing, but it was also a little sad too. We were able to see where the levels of water used to be, which tells a gloomy story about our environment.
After checking out the Dam, Robert had an idea to take photos of Dillon and I standing atop of Lake Mead! As we drove up the hill to the top, I had no earthly idea Nevada had the most beautiful lake I had ever seen! I mean the mountains and coves accompanied by canals were just GORGEOUS. There is a marina with at least a hundred nice boats docked and the water was as calm as a sleeping baby.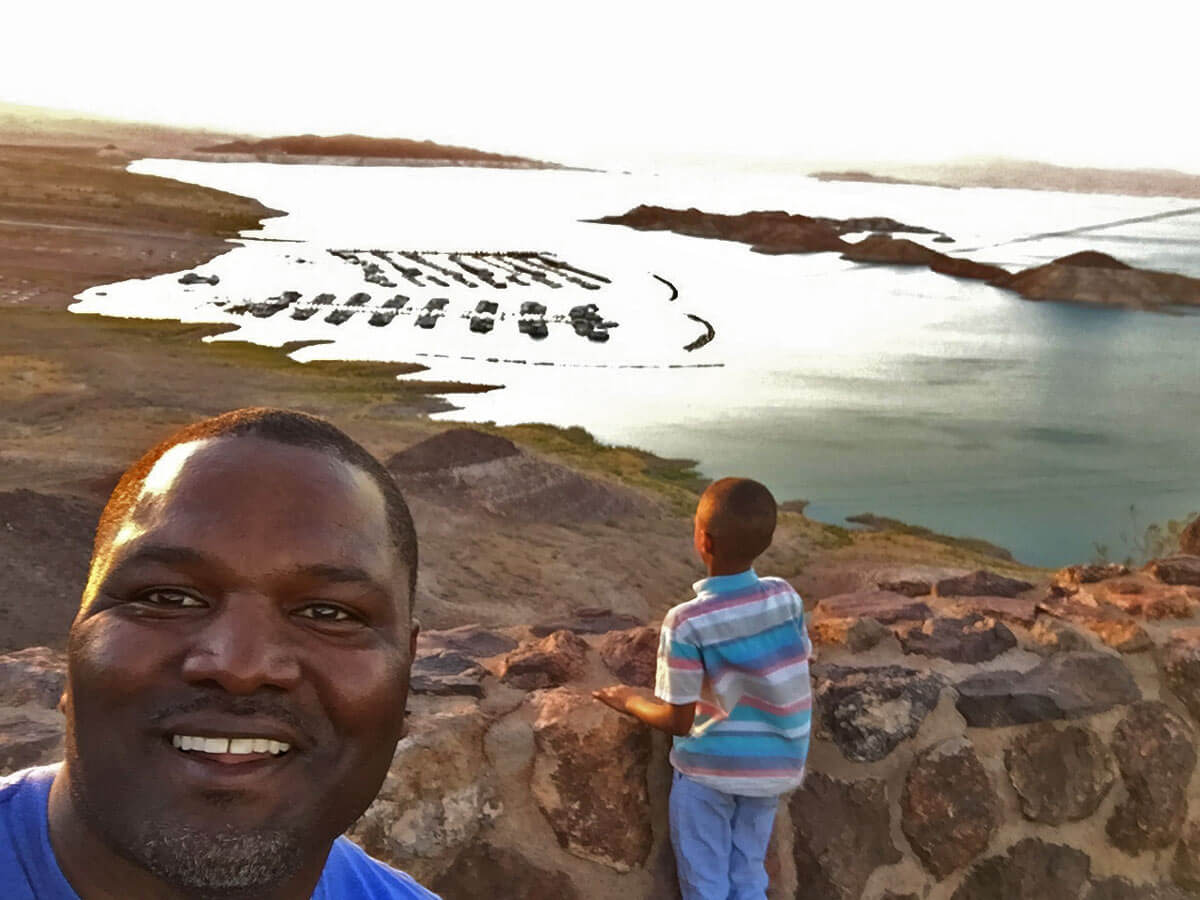 Dillon and I were able to take lots of photos but my favorite is the silhouette with our bodies facing the sun holding hands (yep, I cried when I saw it). It was the perfect photo because it signified our current journey to the West! Later we traveled to the bottom and took photos on the beach. While Robert and I started setting up things for the video, I watched Dillon walk down to the water and pick up trash along side the beach. As he picked up the trash, I heard him say "who would leave a golf ball, a hat and beer tops on this beautiful beach…who, who, who would do something like that???" Again, I just shook my head and smirked. 😉
After the video, Robert offered to take Dillon and I to dinner, but we were TIRED! And since it was 100+ degrees in Nevada, we declined to camp and opted for a hotel. Dillon also wanted to swim so we decided against going out to dinner and ate in at the hotel (chicken fingers and wings). We did go to the pool, but it's was a bit breezy we hopped in the hot tube for about 30mins until we both said "it's time to go to bed". Robert is a GREAT fella and we want to thank him!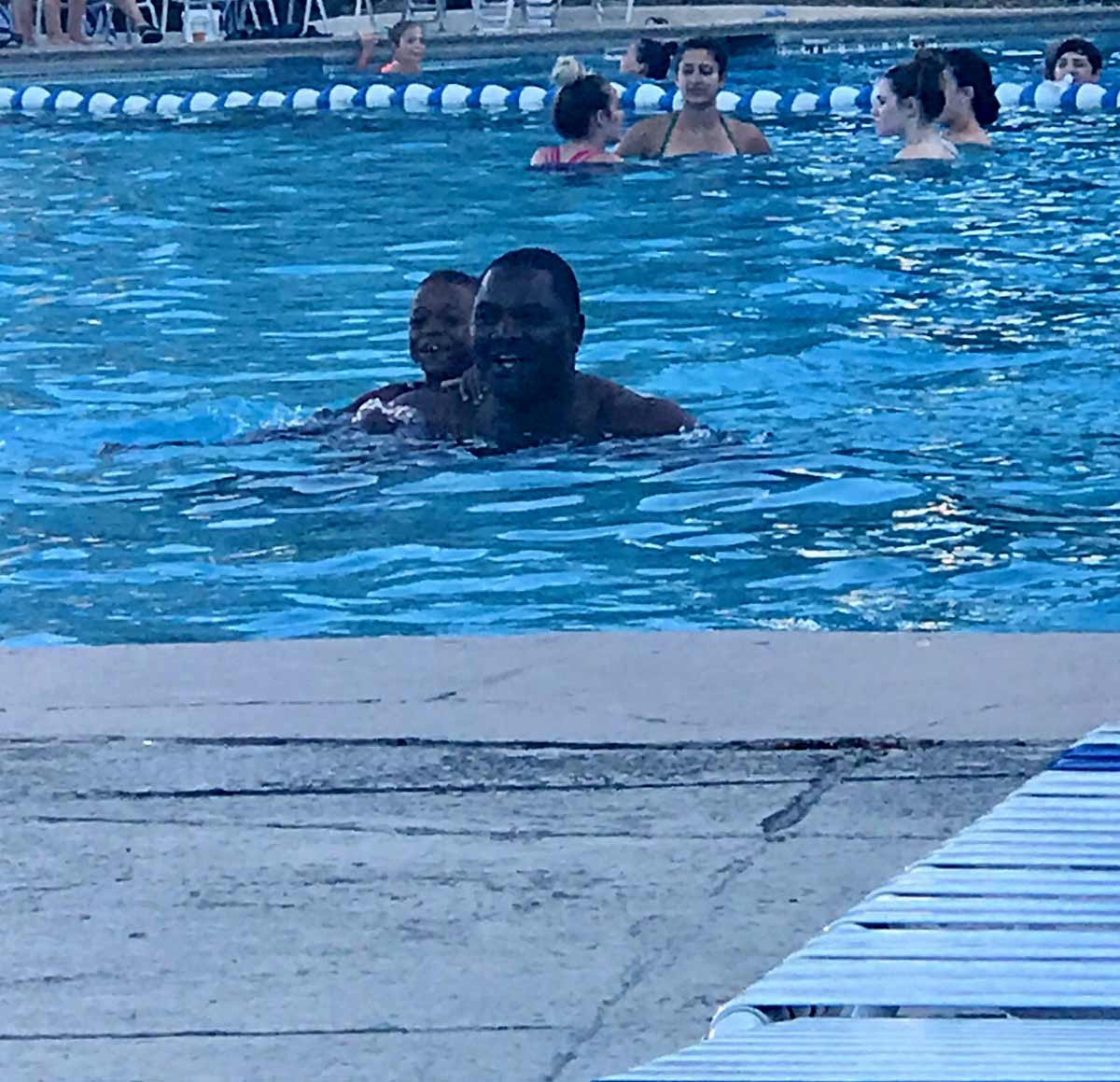 NEVADA Contiunes…….
They say what goes on in Vegas stays in Vegas! Well, not in our case, we tell it ALL!  So allow me to begin….
When Dillon and I travel together, we normally eat lunch or dinner at a popular restaurant chain known for its wings. We like the crab legs and non-breaded wings. I didn't tell him where we were going, but when we pulled up, he said, "let's go get them crab legs, daddy!" Lol! Before walking into the restaurant, we walked past the casino and Dillon said "we can win a lot of money, daddy." I said, "son, you can lose a lot of money too…ain't nothing for free and those games are for entertainment only, no matter how good you think you are". We walked into the restaurant, our waitress arrives and Dillon starts telling her about our trip. During the conversation, she tells us she has children too. Since she was so interested in Dillon and had a son (8yrs old), we gave her a copy of our book and signed it for her children (The Chronicles of  Dillon and Fuzzy-Bullying Edition). Of course, she was surprised and my baby boy was all smiles!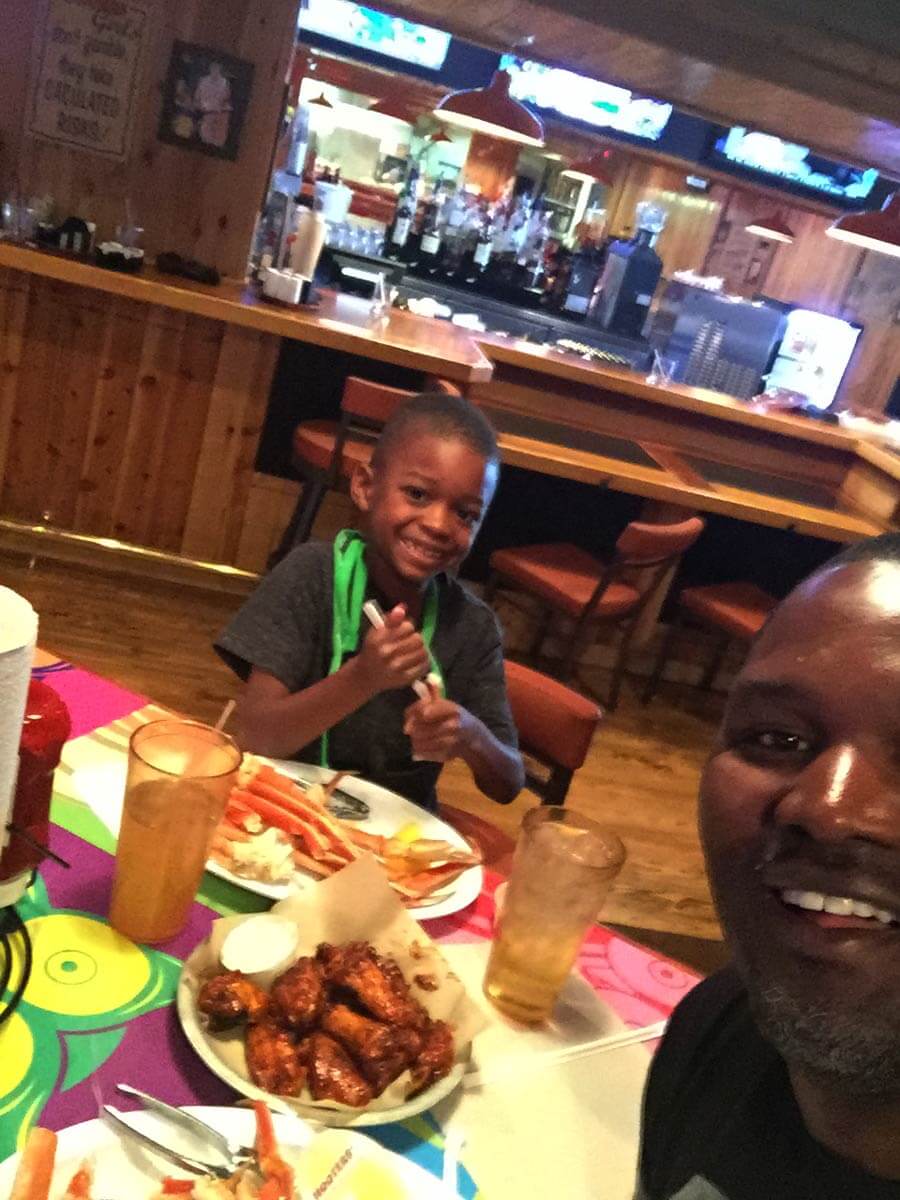 We left the restaurant, checked into another hotel on the strip, I told the hotel attendant about our trip and he upgraded our $40 a night room to a jacuzzi suite (during the week, Vegas hotels are CHEAP…..$27 a night cheap plus resort fees). While checking in, my high school classmate who lives in Vegas, Tara Camille, met us at the pool! We figured Dillon would only swim an hour and we would go get dinner, but boy were we wrong…more like THREE hours (I taught that dude to swim a few days ago and now he's Michael Phelps).
Anyways, after swimming, we had dinner at Shooks (off the strip and it was GREAT). Dillon was so tired he didn't even finish dinner. He did stay up long enough to see some of Vegas' lights, but fell back to sleep after I took the pic with his mouth open.
We arrived at our hotel, said our goodbyes to Tara and I carried him upstairs. The next morning, I texted Tara and said, "Dillon is one of a kind" and she replied, "he's going places, Earl".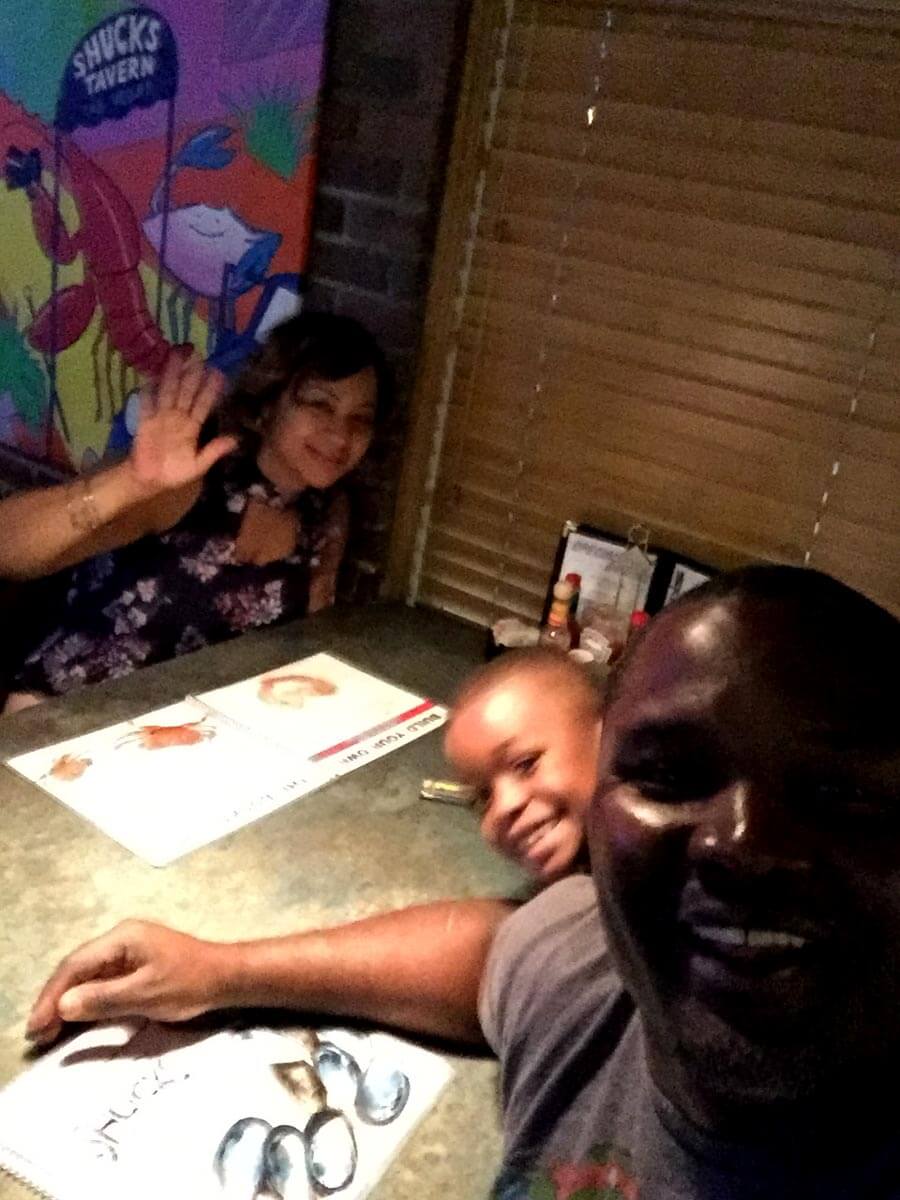 After eating breakfast, I worked and we went back to the pool. I conducted swim lessons with Dillon for about 20mins and then we met a group of people celebrating their father's 90th birthday (it was ironic that he works for the Colorado Rockies because we enjoyed a game there last week). We left the pool around noon and then visited a client in the area. We didn't see much of Vegas this time because all Dillon wanted to do was swim (not bad for a 7yr old).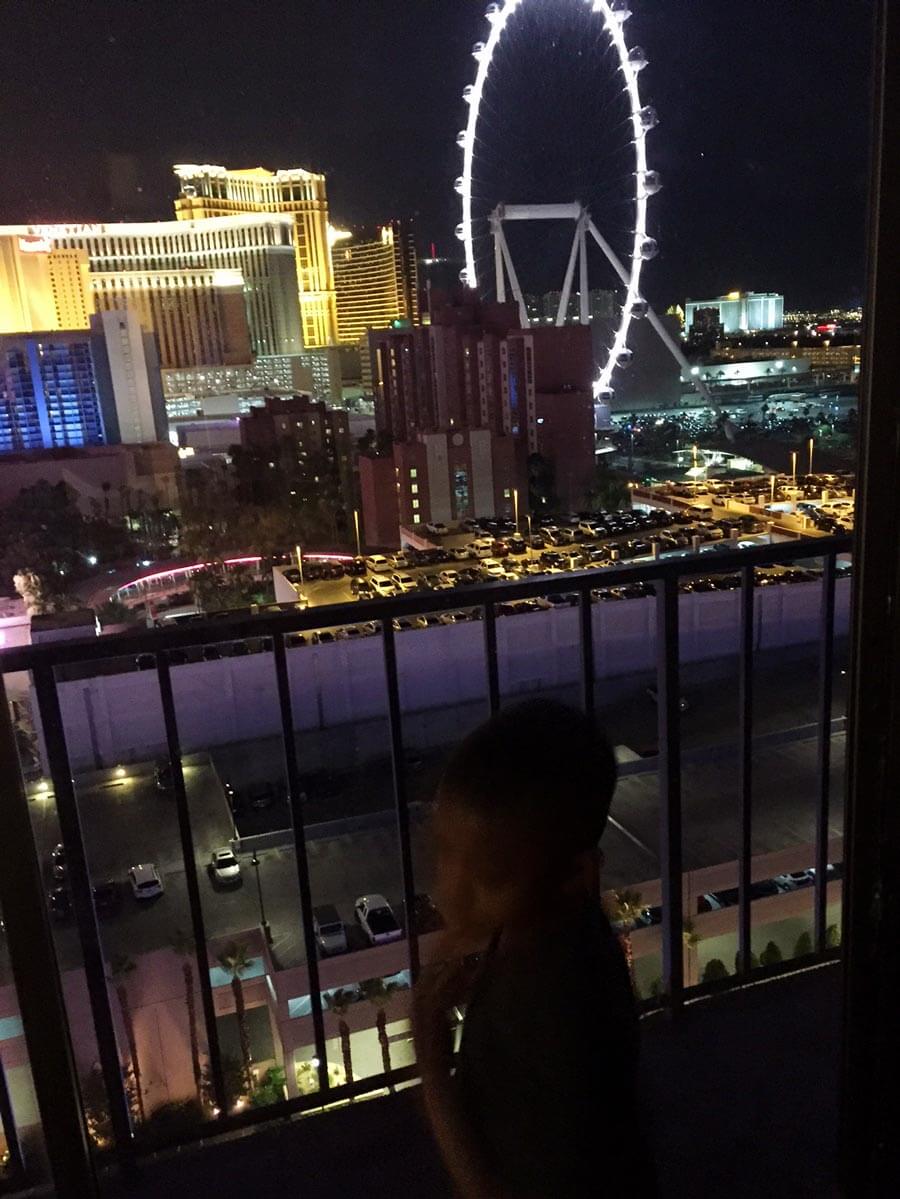 We left Nevada and drove 4hrs to Temecula, CA (Southern California). It's cooler here, so we'll resume camping at the KOA in Banning, CA. I have two meetings tomorrow in the area and one in Los Angeles. After which, we'll decide if we're going up to San Francisco (I would like to ride bikes across the Golden Gate Bridge and check the Muir Woods too). Our plans may not be definite, but we have certainly bonded like two soldiers in a foxhole 😉 Thanks to all of you who are still following our journey. We appreciate your love and prayers.
OAN: While leaving the pool yesterday, we spotted a hummingbird. Dillon was all about the bird. So he begins to tell Tara and I about the bird. He plucked a few flowers and told us the hummingbird likes red flowers because they are sweeter (Tara looked at me and just shook her head saying "he's something else"). And I said, "Now do you believe me when I post stuff that he says" (because I know people think I make up the stuff my children say…..but I don't).
OANN: We've received tons of encouraging messages. Keep them coming and please add your mailing address. We'll try to send you a post card 😉
Featured photo by: Robert Baker Photography