DILLON & EARL SUMMER CAMPING TRIP 2017 – CENTRAL CALIFORNIA: Yes, we are STILL traveling the country. Add to the list: Bakersfield, Sequoia National Park, Yosemite National Park and Manteca.
I would like to start by saying THANK YOU, THANK YOU & THANK YOU to those who have reached out to us via inbox when they didn't see our post for 5 days! We have been in areas so remote that phone service was not available and I was actually happy we didn't have any contact with the world. It was just Dillon and I, enjoying our time together (and a few other people whom I will mention as I share our memories). 
We left L.A. early Saturday afternoon and made it to Bakersfield (an industrial city located about 4hrs from L.A.) Bakersfield is also located less than 2 hours from Sequoia National Park, so I thought it would be a good resting place for us to hangout for the weekend (since it was July 4th weekend, there were no campgrounds available closer to Sequoia). I Googled the nearest KOA in the area and there were no vacancies; next, I Googled the nearest campground and found River Run RV Park. I called the park, the young lady was VERY nice and she stated that they had spaces available. As we drove to the campground, we hit a dead-end at a RV salvage yard. I looked at Dillon and he looked at me…we both said, "If this place is not good, we'll get a hotel for the night". To our surprise, the River Run RV Park was superb!!! The place is tucked away behind all the chain hotels, nestled along side a nice river. The gate was black iron and the road was newly paved. The young lady greeted us, offered us a few spaces near the pool and she didn't take payment. She said, "You guys have had a long drive, so go get your camper set up and we'll take care of it tomorrow"). Dillon smiled after hearing this because he was ready to get in the pool with the other children running around the park.
After getting the GO set-up and meeting our neighbors, we made our way to the pool and it did not disappoint. Dillon is a "young swimmer", so he was a little timid about getting in until he saw the other boys just jump in and start swimming. This is where the magic happened…I watched my son who didn't  know how to swim 19 days ago swim the entire pool starting in the deep section. I was a PROUD father and, of course, I have videos of him from start to finish. During our pool visit, we met a family who traveled from the East Coast (Miami). They had been saving for this cross-country trip for a while and they finally did it! As always, Dillon invited them to breakfast (he invites any and everyone to break bread with us). The next morning, I cooked breakfast (pancakes, sausage, eggs and potatoes) for eleven people (Dillon invited our neighbors too). After eating breakfast, we decided to stay another night before going to Sequoia National Park. Dillon met more friends and our Sunday was shaping up pretty good. My body was tired after driving across the country, so I took time to rest and read up on the history of Sequoia and Yosemite National Parks. 
The next day, we packed up and started our journey to see the GIANT trees in Sequoia (we didn't know much about Sequoia, but we heard about the tree big enough that cars were allowed to drive through. Once we got to thru the park entrance, we stopped at the visitor's center to get the Junior Ranger booklet. While there, Dillon held court telling the other children all about our trip and trying to answer all the questions about the parks wildlife (half of his answers were wrong, but he was trying). 
Seven thousand feet later, we were driving up a winding road and stopping along the way to take a few photos. As you can imagine, we both asked, "Where are these GIANT trees?" Just minutes after, we drove around a curve and there they were …HUGE Sequoia Trees!!! We pulled over, jumped out the truck and took all types of photos. We were amazed…it was like a fairytale or something I had seen while watching a Jolly Green Giant commercial. We proceeded up the mountain and stopped at the Giant Tree Museum (very impressive). The drive-thru tree was damaged during a storm, so we were not able to see it. However, we did take a lot of photos and we took a bus tour to the tree that allowed us to WALK-THRU (pretty freaking amazing).
After having peace with the trees, we decided to camp in Sequoia. Since all the traditional campgrounds were full, we were told to camp at Big Meadows (not a campground, but a tent campsite). Big Meadows is TOTALLY different from KOAs & River Run Campground. There was no restroom, no shower, no electricity, no water or lights…it was COLD at night, but the location we selected was beautiful with a view of a snowy mountain in July. I said to Dillon, "This is what you called shownuff camping baby." He looked at me and said, "Like cavemen" lol. We met a cool young couple who had just gotten married and were on their honeymoon (I gave them some marriage advice). We also met a Russian fella camping with his two children (he was reconnecting with his children since he travels for business…similar to what I was doing with Dillon). I cooked salmon, shrimp and potatoes on our Fire X Disc grill and it was good too! As we all sat around the campfire, I told the young couple I would sing a song to celebrate their marriage, but out of nowhere, the Russian fella started signing Johnny Cash lolololol (and he sounded exactly like JC). Yep, he one-up'd me for sure and it was super cool! After singing, Dillon fell asleep…normally the heater would be blasting, but this time there was no heat and it was freezing. After putting out the fire, I climbed in the camper next to Dillon to snuggle. Through the clear window, I looked up and the sky was clear. I thanked God for the time he had given me with my son and I was also thinking of our escape route in case a bear wanted us for a late night snack ;). 
Our first night camping off the grid was a success! I cooked breakfast (bacon and eggs). We packed up and headed to Hume Lake, where we day camped along the lake (such a beautiful place). After lunch (sandwiches), we packed up and traveled to Yosemite!!! Before leaving Sequoia, we saw a July 4th parade and stopped by the ranger station where Dillon was sworn in again for his 4th Junior Ranger badge. 
GOING TO YOSEMITE…
As a kid, I had always seen post cards featuring Yosemite National Park. I actually didn't think the place was real, but boy was I absolutely wrong. While Dillon slept during the drive up, I woke him as we entered the Yosemite Valley. Once we drove through the first tunnel, there was a sign that said, "Slow for crossing pedestrians". We looked to our left and saw a huge waterfall. The water was raging off the cliff and it was pretty cool. We drove along rivers that would be seen on ETV and the scenery was majestic. The air was clean and the people were in awwwwwwwww (so were we). Once at the base, we visited the park, walked around and took lots of photos. Once again, Dillon gave me the history of the park that I didn't know (I felt like the child on this trip lol). 
After visiting the park and viewing the theater, we decided we would try another night of "off the grid camping". The weather was a little warmer, so all was fair. Just like Sequoia, the campgrounds near Yosemite were full, but we found a spot outside of the park (Sweet Water). We rolled in, dropped our $22 in the pole (it's the honor system) and proceeded to our spot. When I parked, I noticed a big brown box with a sign that read, "Bear Box…Store Your Food". My eyes got really big and I said to Dillon, "I'm not sure this is our type of spot and he said, "Right on, Dad". Nevertheless, we stayed because I asked the campground host if they had seen any bears in the area and she replied, "No, not at all, but we have seen deer and a baby bobcat".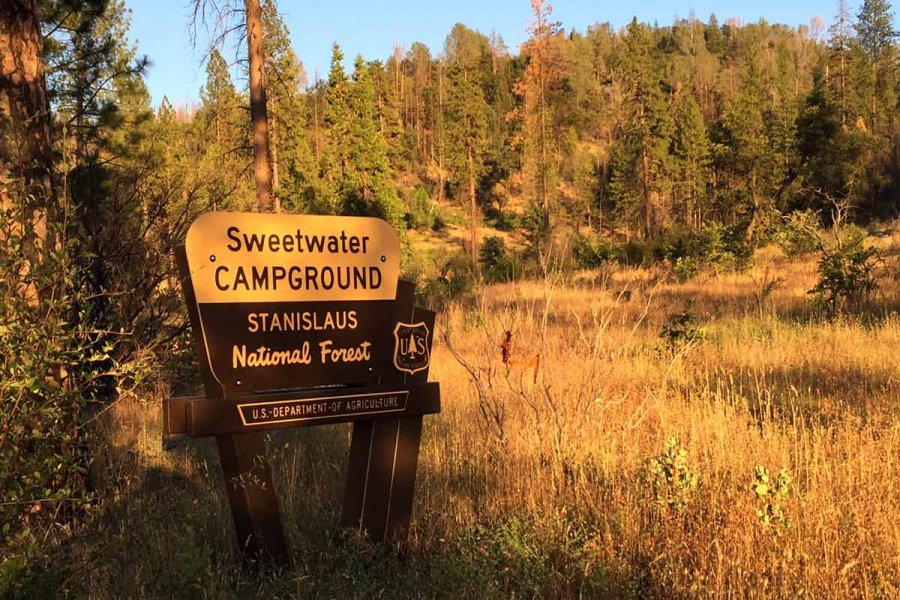 Later, Dillon met some friends. Just as the darkness arrived, Dillon and his new friend saw deer running thru the campground. After snuggling on another cool night, we packed up and traveled to Manteca, CA to visit a client. We had not taken a shower in two days, so I didn't want to stay long. After two hours, we left and drove through Sacramento to Mt Shasta, CA. On our way to Oregon, we stopped here because I wanted Dillon to meet my Appalachian State University classmate, Linwood Byron Mathes, who lives 8 minutes away in Weed, CA. I'll post about our time here in a few days…just know that the KOA, Linwood and his family treated us like GOLD! 
I was hoping to leave at 6am today, but Dillon wanted to sleep in. I don't blame him, he's been on the road with me for almost a month and we still have a few more weeks to go. We will leave and travel 4hrs to Eugene, OR (home of the Oregon Ducks). We'll visit the Ducks facilities, but I'll also introduce Dillon to another friend, Moe Williams, who lives nearby in Portland. YES, we are still excited and YES we plan to go further WEST! 
Again, thanks for following us! Leave us a message in the comments below…we love hearing from you!